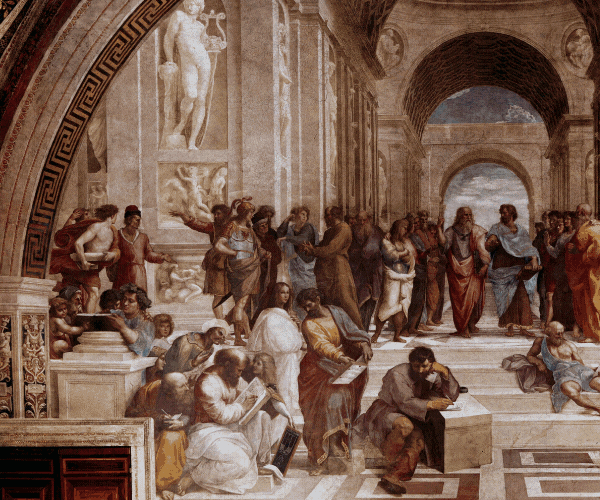 Where did we come from and where are we going? Why are we here? What is moral truth, can we know it, and who decides? What are the greatest ideas in history? Where do they come from?
Big ideas such as democracy, inalienable rights, the value of an examined life, the value of a virtuous life—these notions all stem from the greatest philosophers, teachers, and writers in Western Civilization and the bedrock of the Holy Scriptures. It's through study of the classical liberal arts (CLA) that broaden the scope of a student's knowledge. Through CLA study, students wrestle with the questions that matter most and the answers that antiquity as put forth.
At Patrick Henry College, students will hear from Plato on the meaning of true justice. They'll pour over the writings of Karl Marx to understand his theory on class struggles. Through classes like History of Western Civilization and U.S. History, students will ponder the meaning of a national identity and listen to arguments from Abraham Lincoln and George Washington about the nature of American democracy. They'll hear from Jesus of Nazareth, and learn how His sacrifice changed history forever.
Through an examination of all of these and many others, students study a broad range of authoritative texts from classical philosophy to ancient history to Scripture-based theology.
While classroom questions and discussions are vitally important to learning, Patrick Henry College places a strong emphasis on learning directly from the greatest minds in Western civilization, giving students the opportunity to interact directly with original texts.
The methodology employed in the classical learning classroom at PHC is to allow the authors to do the teaching and the faculty to be the facilitators of the conversation between the students and their teachers. There are many teachers who impart knowledge in the classroom, from Plato and Aristotle, to Dostoyevsky, to A.W. Tozer. Students are taught the revolutionary importance of living a virtuous life, as well as embark on grand literary journeys to discover what it means to be human. Professors act as facilitators in the learning environment, guiding the students to water that they might distill truth from the texts; moving toward deeper knowledge.
Rather than rushing to critique, students must do the work of listening to and understanding what the text is teaching them. Only then should they move to critique.
All classes in Patrick Henry College's Classical Liberal Arts program are guided by a fundamental biblical worldview. Electives for the program include classes such as The Messiah in the Old and New Testament, Classical Mythology, Historiography, Literary Theory & Criticism, and Ethics.
The CLA major's interdisciplinary opportunities help students explore their academic strengths and develop the art of learning as a lifestyle. This major also gives students the flexibility to hand-select classes, allowing them to develop their own focus in a particular area of study.
The Classical Liberal Arts major prepares students for success through a myriad of teachers in the learning environment. Scripture, the greatest authority, plants a deep root of Christian philosophy and theology, preparing students for practical application of their worldview outside of school. The Classical Liberal Arts major addresses meta-narratives and universal themes, thus confronting life's most transcendent questions—truly a rich and fulfilling education.