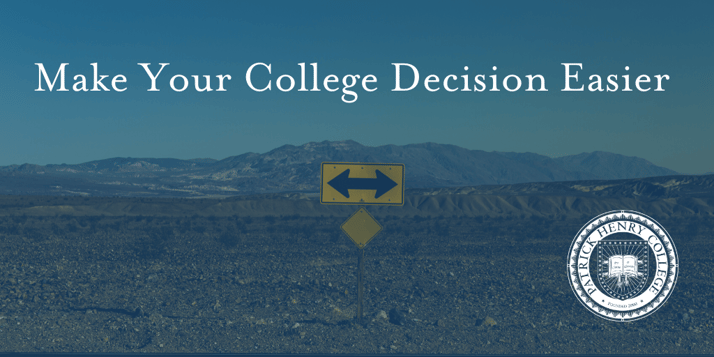 You've submitted your college applications, visited campuses, talked to admissions staff… what next? There's so much to keep track of when choosing the right college. Not to mention that you only have a few months to decide.
Meredith Monroe is a PHC alumna and a data analyst for the Office of Admission. She has some important pieces of advice when it comes to making your college decision as stress-free as possible.
Her Story
When Monroe was a sophomore in high school, she took a trip to Washington D.C. with her older sister Olivia. While in the area, they toured PHC for the first time. "Even though I was in eighth grade, I was enthralled by the school, absolutely loved it, and I think that I was more set on coming to PHC than Olivia was, even though she got here first," Monroe said.
She realized she was looking for a school that had a strong Christian community and a challenging curriculum. She decided to attend PHC because she knew it could give her both. "It had that very, very strong, godly perspective in the classroom and also in the dorm life, and then it was also academically rigorous," she said.
What Qualities to Look For
"I think you really need to look at what's valuable to you," Monroe said. When considering the pros and cons of attending different colleges, it's important to know what things to consider over others. "Even if they have really compelling major programs or scholarship opportunities, you don't want those things to distract you from what you view as a core value when looking for college."
Another helpful guideline, according to Monroe, is to ask yourself, "Who do I want to become after four years of college?" She advocates for asking this question instead of asking yourself what kind of job or salary you want to have, because those plans can change.
Monroe had no idea what she wanted to do when she graduated college, "but I had a very good idea of who I wanted to become."
How to Decide
In order to see how well a school fits you, Monroe suggests taking the time to find your story.
"Every person is different and every story is different." Whether a student has their "30-year plan down and sketched" or just knows the basics of what they want, they should look at a school's classes, core, and internship opportunities to see if they will help them become who they want to be when they graduate.
"There's no shortage of questions that you should be asking in the college search process, and definitely finances are a thing to consider because college is expensive, so a good question to ask is, 'What is college worth to you?'" Monroe said.
What to Avoid
"I think one thing that students should not worry so much about is having your whole life figured out before you go to college," Monroe said. "If you're not dead set on what you want to do, and you don't feel like you've got this God inspired vocation quite yet, then don't make that a deciding factor on where you go to college, because you could close yourself off to opportunities that God has in store for you."
Another thing to not weigh heavily in the decision-making process is a college's size. "Just because a school is small does not mean that it is a bad school, and just because a school is large does not mean it's a great school," Monroe said, and vice versa.
Be Prepared
Don't wait until the last minute to get started. Monroe says that beginning to think about the college application process during junior year of high school is ideal. "It's better to start early. Scholarship applications and things like that are always due earlier than you think they're going to be."
"Pray about it a lot and bring your family in on the decision with you," she suggests. Deciding on a college is a big decision, and it affects your parents and siblings as well, "so make sure that they're in on your decision-making process."
______
Learn more about PHC Admissions here!