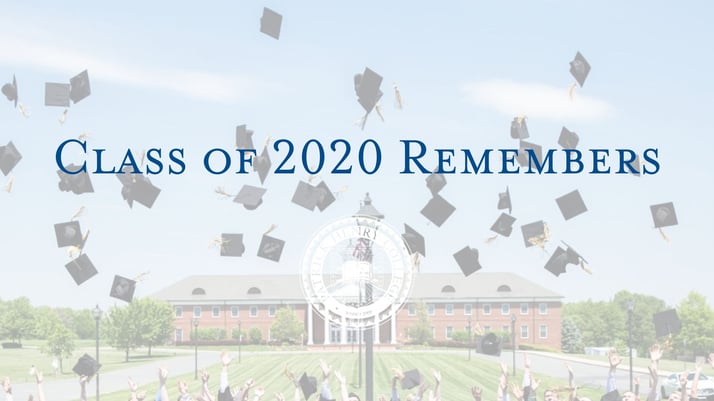 In part 1 of this senior series, we chatted with three students of our class of 2020: Jae Jared (SI '20), Kyle Ziemnick (JRN '20), and Sarah Henry (SI '20). Read as they reminisce about the good, the funny, and the cringe-worthy from their past four years at PHC.
Q: What is the best part of PHC's campus?
Jae Jared: The community. Being a part of the community that encourages and supports you like this one has been priceless. There are some friends that have become like family... each relationship contributed to making life fun and fulfilling here at school.
Kyle Ziemnick: The people; living in a dorm and getting to hang out and play games with the people around campus—while always working to build each other up in Christ—is something you can't find anywhere else.
Sarah Henry: The people. (And i'm an introvert!) I enjoy having the opportunity to know freshmen and sophomores, which i'm sure I wouldn't have if I had lived off campus.
Q: Describe PHC in one word.
SH: Home.
KZ: Community.
JJ: Home.
Q: What will you miss the most after graduating?
JJ: First, the community. All the relationships I'm leaving behind. But also the number of outlets and opportunities to use my different skills to bless others. You can play ball with others, have spontaneous worship with friends, bake goodies with friends, etc. It brought us together in a lot of different areas, and I'm going to miss that.
SH: I'll miss the people the most. I'm glad my fiancé and I are moving to the D.C. area after we get married, so I'll be relatively close to campus, but it won't be the same thing as living with such a great group of people. I've loved my friends, and I wouldn't trade these four years for the world.
KZ: The people... an obvious answer. But also the faculty. It's easy to take for granted how amazing it is to have men and women willing to pour into you, not only academically, but also personally. I will miss them a ton.
Q: One freshman fail?
JJ: Wearing sweats in the coffeeshop while studying during business hours; trying to make my fun socks look business casual; starting my Logic precis the day it was due.
KZ: Creating group chats for the entire class that I proceeded to exercise dictatorial control over—and organizing events that fewer and fewer people came to.
SH: I went all out for the freshman dance (which was roaring 20s themed) and did period accurate makeup and hair... it was a little garish and not cute.
Q: One piece of advice?
SH: Do not make grades and academic perfection your god. I did, and it resulted in severe exhaustion and burnout. Getting enough sleep, eating well, and actually having a healthy social life is worth it. Treat your body like a gift, not like it's a machine made for churning out good grades.
KZ: Find the right balance of spiritual, social, and academic life for you. You need a healthy social life, diligent academic work, and above all a story spiritual foundation to thrive at PHC. It's all about balance.
JJ: Make mistakes, and lots of them—and this is coming from a perfectionist! Don't let your desire to succeed be driven by fear of messing up. You learn so much more from mistakes. Use what you learn from them as the tools to do better the next go-around!
Q: What is one way you grew while at PHC?
JJ: I put my schedule aside in order to spend spontaneous time with friends. Some of my favorite memories have been made when going on unplanned adventures with friends!
SH: Learning how to prioritize responsibilities in a healthy way. I used to prioritize school and academics above anything else, but that wasn't healthy and negatively affected my emotional and physical health. I've learned how to become more balanced.
KZ: I learned to balance confidence with humility—God calls us to live a life without fear but also with complete humility. My forensics coaches and other students helped show me what it means to stand up for what's right with confidence without succumbing to pride, and that allows us to have a huge impact in the world and in our future lives.
---
Watch other students tell their stories.