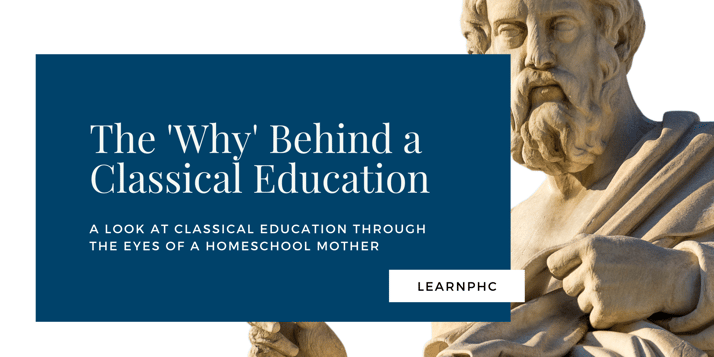 Patrick Henry College is committed to providing a rigorous liberal arts education that gives students a broad range of knowledge in a variety of different topics. We talked to Kimberly Millhouse, a local home educator who has 21 years of experience with a classical model of education. Two of her oldest sons are PHC alumni, and the third is a junior. "I definitely desired for all of my kids to go to Patrick Henry," Millhouse said.
The Beginning
With a family of five children, Millhouse didn't originally plan on homeschooling. She was introduced to the concept when she met a professor in her husband's graduate program who homeschooled. Her husband fell in love with the idea, and after a while, convinced her that it was the ideal education for their children. "After 21 years, it's honestly a testimony as to what the Lord can do in someone's life," Millhouse said.
When homeschooling her students, she bases her curriculum off of the classical quadrivium model of education with variations in the science and language requirements to fit her students' needs. "For one, my children have learned how to integrate their subjects instead of everything being separate, which is great because I think it really helps them think more critically overall," Millhouse said. "And then I also see that it really helps when you have multiple children at different ages."
Continuing the Tradition
So far, three of her five children have chosen to attend PHC. In the end, they all chose to go to PHC, "and you know, I think it was a good choice," Millhouse said.
PHC incorporates many of the same elements that Millhouse uses in her curriculum. The school's philosophy of education holds firmly to leading students to their God-given vocation. Through its extensive liberal arts core, PHC is able to teach students to think critically and become problem-solvers.
"The classical model definitely requires a lot more of my effort, my input, and my time to teach them, but I would say that it definitely has been beneficial in the long run," Millhouse said. "I definitely think that it was a very fruitful way to educate my children."
"A Real Education"
Millhouse's family has lived in Purcellville since 1999 and watched PHC grow since it was first build. It wasn't until her oldest son Clayton attended Admitted Student's Day that she began to understand the significance of what the school had to offer.
"I was amazed at the vision and educational mission of Patrick Henry … My kids could have this opportunity to study from godly men and women who put the inerrancy and the importance of scripture as a primary in all that they taught," Millhouse said. "Their mission is to really educate my students—educate every student with a real education, to really, truly, educate them for the glory of God."
She fell in love with the methodology that PHC embraced and the unapologetic commitment to a biblical worldview. "We are big supporters of the college; we believe in what they're doing."
After attending that first Admitted Student's Day and learning about the benefits of a PHC education, "it continues to be reaffirmed every time I go to an Admitted Student's Day or orientation: I want all of my children to attend Patrick Henry," Millhouse said.
______
Want to learn more about liberal arts at PHC? Click here...