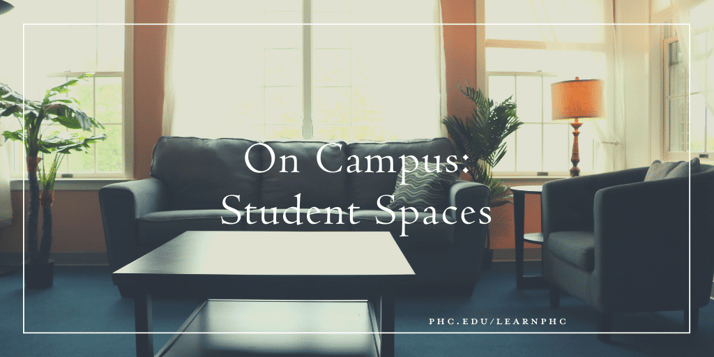 How much does a learning environment help or hinder learning? And, is my college paying attention to its learning environment?
Every college offers students the opportunity to explore their interests in unique ways. By simply creating areas for students to thrive in, institutions help young academics on the road to personal development.
At Patrick Henry College, students have access to a campus full of outlets to explore and develop the various talents and gifts the Lord has given them. With these spaces, they can enrich both their time in college and their communities back home.
The "Family Room"
Each dorm at PHC has a common area. They're like the living rooms of school. Each comes equipped with its own television and seating area. These are the areas where students can come together to hold club meetings, watch movies, and host activities.
While they might seem to be a small part of the college campus, dorm lounges make for perfect social hubs that contribute greatly to the community at Patrick Henry College.
The "Game Room"
The Patrick Henry College student lounge, a larger common area, located in the Barbara Hodel Center, is home to two pool tables, a ping-pong set, an air-hockey table, a number of board games, seating areas, a large flat screen TV, and more. It's the larger version of individual-dorm lounges, providing another option for student get-togethers.
The Kitchen
Inside the student lounge, students at Patrick Henry College can make use the student kitchen. It's a four-stove kitchen available to all Patrick Henry College students. During the semester, students may host special meals for birthdays or other occasions, and the student kitchen allows them to do so.
The "Workout Room"
The school provides students with a weight room and a multi-purpose room. The weight room allows students to push their physical skills to the limit, and the multi-purpose room is an excellent place to dance or stretch. This area is a great outlet for Patrick Henry College faculty and student body to let out stress and practice physical fitness.
The gym has brought out a new type of student community that invites and promotes healthy lifestyles. Students work together and push each other to be their best physically, spiritually, and mentally as they work towards fitness goals.
The Practice Rooms
PHC has four practice rooms designed to allow students to practice music without disturbing others. Many students actively seek opportunities to increase or maintain their musical proficiency, but that's difficult to do in a dorm room. Because of roommates, neighbors, and quiet hours, practicing an instrument in the dorms can just be frustrating.
These soundproof practice rooms allow students to hone their musical abilities all they want without disrupting anyone.
Patrick Henry College hopes to stimulate the community to become active and follow their interests. This handful of examples displays just a few of the spaces PHC offers to its students. Developing students in every aspect of their lives is one of our highest priorities. That's why the leadership continues to invest in the opportunities and infrastructure on campus in order to ensure that campus life meets the development of its students.
______
Leo Briceno is currently studying Political Journalism at Patrick Henry College. Leo has grown up in Northern Virginia and after graduation, plans to stay in the area to work in the news industry in Washington, D.C.
PHC graduates think clearly, communicate persuasively, and are best equipped to serve Christ faithfully. PHC exists for Christ and for liberty. Learn more about PHC's student life here.