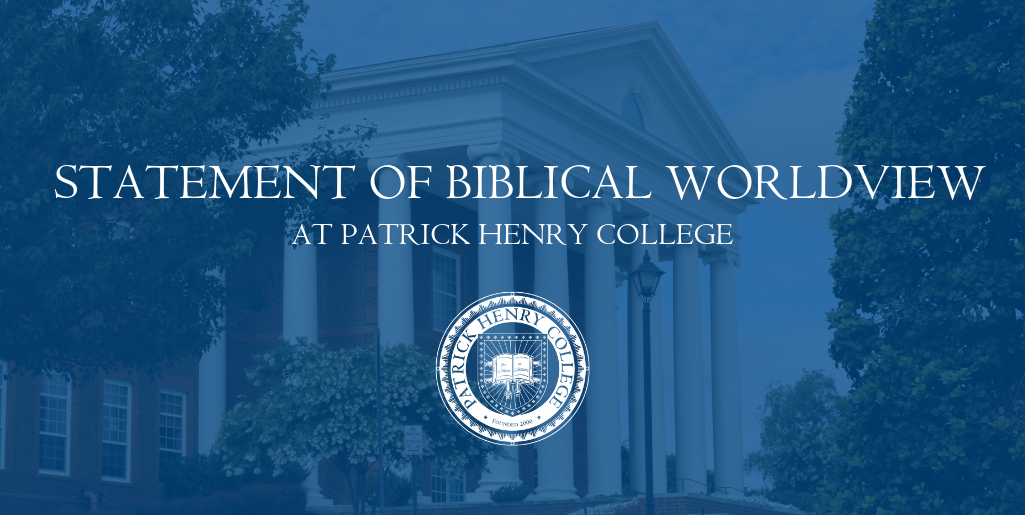 Patrick Henry College is dedicated to a biblical worldview . That means that every class session, every group project, every course syllabus is rooted in a commitment to Christian values and principles. And that's the way it was designed to be.
Composed of 12 different central components of the Christian faith, the Statement of Biblical Worldview lays out the central beliefs of the leadership at Patrick Henry College. It affirms, for instance, that "the Bible in its entirety is the inspired word of God, inerrant in its original manuscripts, and the only infallible and sufficient authority for faith and Christian living." This, along with the eleven other statements, are beliefs that members of the board of trustees and all senior faculty fully affirm and uphold. You can read all twelve points here.
These statements keep Patrick Henry College dedicated to the ideas it was originally built on—for Christ and for liberty. The Statement of Biblical Worldview is there to prevent Patrick Henry College from ever drifting from its mission like so many other colleges with biblical beginnings. Human hearts are, by nature, sinful. And organizations are comprised of humans. To truly honor God and follow his perfect will, organizations—like individuals—require a standard. Organizations need principles around which there is unanimity and accountability. Without these things, the mission of an institution is only as strong as the people in power are principled and reasoning biblically. This is not very trustworthy. Biblically speaking then, men and women of Christian faith acknowledge that we follow God's Word—that we are subordinate to or in submission to—God's revealed will.
Yale's moto reads "Lux et Veritas", which translates to "Light and truth."
Harvard's is "Veritas Christio et Ecclesiae" or "Truth for Christ and the Church."
And Princeton's "Die sub Numine Viget" means "Under God she prospers."
All three of these institutions once started out as centers of education dedicated to a biblical worldview. But while they all still provide students with excellent educational experiences today, they no longer use the Bible as their chief guiding principle. This means that some of the best minds in the country are on their way to a higher education with no affiliation to ideas and values specifically laid out in the Word of God.
There's nothing wrong with a great education. But—as noted by C.S. Lewis—when removed from guiding principles, education is subject to all sorts of influences. In his book, Abolition of Man, Lewis writes: "Education without values, as useful as it is, seems rather to make man a cleverer devil."
Back in 2000 the PHC founders believed that the country was in need of men and women of principle who could perform at the highest levels of academic, social, and political circles. They decided to make a school that would rest on three core ideas. One was a commitment to a rigorous academic environment. Another was a dedication to the founding of the American spirit. The last one was an unwavering dedication to a biblical worldview. Patrick Henry College would be specifically engineered to fill a gap in higher education left behind by those other institutions—one that would renew unity between a rigorous education and biblical principles.
It's been almost twenty years since then, and that mission and mindset has been a part of PHC every step of the way. But, as mentioned previously, preserving it all comes down to clearly defining what is meant by a "biblical worldview." Without it, that mission could waver. Thankfully, the Statement of Biblical Worldview has safeguarded PHC for two decades and will—hopefully—continue to preserve PHC's intended mission into its next twenty years and beyond.
-----
Learn how PHC stands apart from other Christian liberal arts programs.
Patrick Henry College exists to glorify God by challenging the status quo in higher education, lifting high both faith and reason within a rigorous academic environment; thereby preserving for posterity the ideals behind the "noble experiment in ordered liberty" that is the foundation of America.