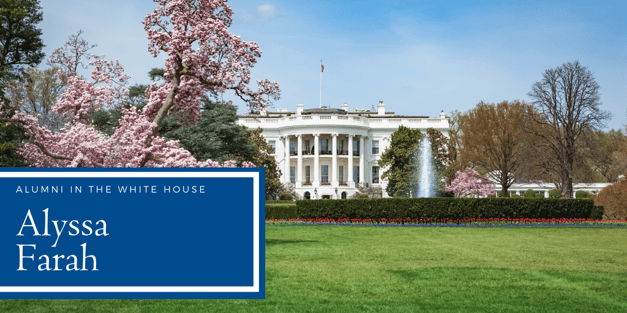 In March President Trump appointed two Patrick Henry College alumni, Ben Williamson and Alyssa Farah, to the White House, adding to the growing number of PHC graduates to staff the presidential mansion.
We spoke to a few of our alumni to discuss their positions. Here's what Alyssa Farah, who attended PHC until 2011 and now works as the Director Of Strategic Communications at The White House, had to say.
[READ: Patrick Henry College Alumni in the White House]
What does your average day looks like?
The best part of working in the Trump White House is that there's no such thing as an average day. Every day brings something new and exciting. One day we could be working on a major trade deal with an ally nation and the next day we'll be rolling out a significant deregulatory executive order. In my role, I serve in a sort of dual hatted role of helping message day-of events, breaking news, announcements, as well as overseeing strategic planning for days and weeks out. I get into the office around 7:30am, but my morning starts much earlier to monitor the morning news shows and get a jump start on what is trending that day. I begin my day huddling with the White House Press Secretary to go over major breaking news items and to review the President's media engagements for the day. The day takes off from there. I usually have a couple hours of policy meetings on potential new policies we'll be announcing, spend time in the oval with the President, meet with reporters in my office (they can freely walk around our portion of the White House, and I have an open door policy with them), and hold daily strategy meetings with my team.
What do your specific duties entail?
I oversee all short term and long term messaging for the White House, I oversee all media bookings for the Administration (determining who we put on what TV or radio program to amplify the Administration's policies), and I work with principals to brief them ahead of any public facing interactions they'll do. I oversee a team of roughly 20 people, including a strong rapid response and research team as well as a regional media team who work under me.
How did you get to where you are now?
I majored in Journalism at Patrick Henry College. Dr. Les Sillars helped me hone my writing and communications skills. I originally wanted to be a reporter, but realize I'm probably too partisan to do it objectively, so I moved to the other side of it, working with press as a spokesperson. I interned throughout college with media outlets, and ultimately got my break working on Capitol Hill as Press Secretary for then Congressman Mark Meadows. I went on to serve as Communications Director for the House Freedom Caucus, under Chairmen Jim Jordan and Mark Meadows, then to serve as Vice President Pence's spokesperson. Following two years with Pence, I went on to serve as the Pentagon's Press Secretary, until I ultimately was asked to return to the White House to serve in my current role. I attribute my ability to rise in the political communications space to two primary factors: my understanding of the role of the free press and respect for the work they do and my decision early on to learn the policies I'm communicating in parallel to communicating them, so I'm not simply a mouthpiece, but have a solid background in policy to back what I'm communicating.
What lessons did you learn at PHC that still impact you today?
I have to again give a shoutout to Dr. Sillars and the Journalism program. Understanding the standards the media should hold themselves to and having an appreciation for the important role journalism plays in our society has proven invaluable to me. My role working with the press hinges largely on mutual trust and holding ourselves to the same ethical standards. While I have many criticisms of the media writ large, there are also countless phenomenal journalists I've had the opportunity to work with on matters of the highest level of sensitivity, that required them to keep their word, not violate the terms of our discussions, and ultimately report honestly to the American public. I think my brief foray into Journalism at PHC helped prepare me to establish those relationships and accurately communicate important information to the American people.
______
Click below to read more about PHC alumni!