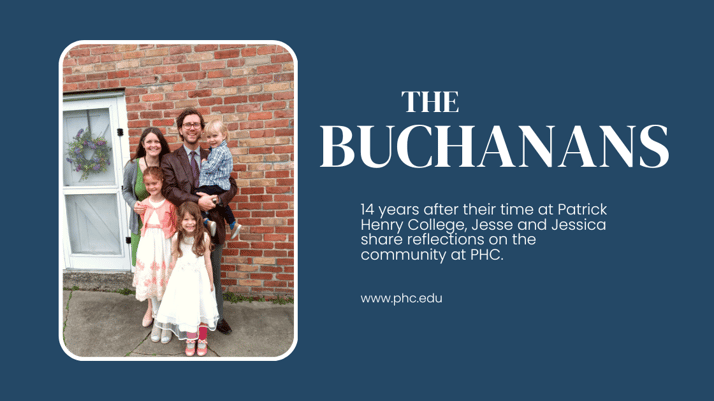 Do you still keep up with friends you made in college more than a decade later?
One could hardly visit a liberal arts campus and not hear the admissions team raving about the great community on campus. Students should love their campus communities. Learning environments create unique, tight-knit communities, and the college years are such a socially-rich time of life.
When one describes the community at Patrick Henry College as being quite special, it's true, but what is an effective way to communicate this? We caught up with Jesse and Jessica Buchanan about their time at PHC more than a decade ago.
After both leaving PHC in 2008, Jessica Buchanan (née Runk) took a job with the Commonwealth Foundation in Pennsylvania while Jesse began working for the Meriden Record-Journal newspaper in Connecticut. Jessica graduated with a degree in public policy. Jesse Buchanan left in his junior year to take the newspaper job, completing his remaining credits at a leisurely pace and finally graduating in 2012.
The two were married in 2010 and moved to Connecticut where Jessica worked for another economic think tank, the Yankee Institute. They've lived in Hartford since and have three children. No longer in the non-profit world, Jessica homeschools the children and manages a real estate business with Jesse. She's busy hosting friends and family, reading with a book club, and helping with an area moms' group. Jesse is a reporter with the newspaper and very much enjoying the work-from-home lifestyle. He's happy to be close to relatives, living in the city where he grew up, and attending his childhood church.
Jesse and Jessica enjoy reconnecting with friends from PHC regularly. Their recollections are as follows:
"It's incredible how many great memories are packed into the few years we spent at PHC. Those were such formative and important years from which we still benefit in so many ways."
"Some of the best times were spent in the dining hall studying for an impending test, procrastinating on a weekend, sitting with professors outside of the classroom or trying to fit far too many friends at far too few tables."
"There was a lot we were all trying to figure out together, be it the meaning of movies or the ethics of force or the best church to attend, and a lot of those conversations happened over meals."
"Friends were such a huge part of what made our college years so memorable. We're grateful that we're still close with so many of them and can meet up regularly. We both worked maintenance on campus and got to know each other through, among other things, cleaning out every dorm room sink trap during the summer of 2006. Having spent many hours on upkeep, we appreciate the campus itself (and recently noticed the hand washing signs we put up during the bird flu scare are still there)."
"One of our quieter but favorite memories is the walk from our dorms to Founders Hall at night. Often chilly, especially when the wind whipped around Red Hill, there was the comforting sight of lights in Founders. College is a waypoint rather than a destination in life, but we're fortunate to have felt at home during the years at PHC."