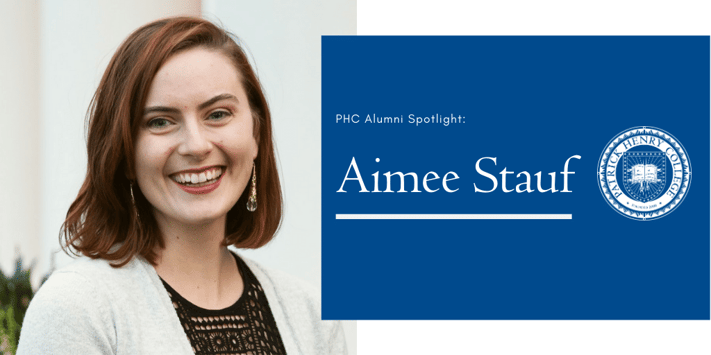 Alumna Aimee Stauf's new book Northern Lights: Illuminating Iceland with the Light of the Gospel is set to be published this summer. She was commissioned by The Iceland Project, a group of Christians working to plant churches in Iceland, to write this book. We asked her some questions about her book, and why she chose to write about Iceland...
Q: What is Northern Lights about?
There's a lot of complexity in Iceland's relationship with Christianity and the gospel in general, so this book explores that complexity. Each chapter focuses on a different aspect—the history, culture, and barriers to the gospel—and the end offers some ideas for how to support gospel-centered efforts. It's meant to be a guide for anyone interested in Iceland, who is a Christian and wants to support gospel-centered work.
Q: Why did you decide to write about Iceland?
It was, in a lot of ways, a God thing. I visited Iceland for a brief time in March of 2018 and felt an overwhelming call to pray for the country and for Icelandic Christians to remain strong and committed to the gospel. When I got home, I researched churches that were preaching the gospel in Iceland and found the Iceland Project. From there, I got connected to a church in Dumfries, VA, and I met a number of Icelanders and pastors from the area who were supporting ministry work over there.
Q: What happened after that?
I met Clint Clifton, who has spent time church planting in Iceland, and he asked me if I knew anyone who could write a book about what God is doing in Iceland. I offered to write the book, and that's how it all started. I knew I wanted to research the topic for myself, so I figured writing a book about it would mean I got to share what I learned with others. It's been a wild two years for sure!
Q: What is your goal for this book?
This book attempts to tackle a country's approach to Christianity in an effort that Christians would be more equipped to have gospel conversations. My hope and prayer is that an Icelander would come to faith in Christ.
Q: How far along in the writing process are you?
I'm in the home stretch! I just have footnotes to format (the struggle is real), and a few copy edits to incorporate. Once that is done, the text will be complete and ready to format for Kindle and print. We already have a beautiful book cover design, and I am excited to see it come together! It will be available on Amazon.
Q: What do you hope your readers will take away?
I hope readers will come away with a great appreciation for the value and depth of the Icelandic culture and will respect the complexities most Icelanders have around faith. And then, I hope that they would apply that to their lives in some way—whether by committing to pray or by becoming connected to gospel-centered efforts there.
______
Click below to read about the Literature Major at PHC!