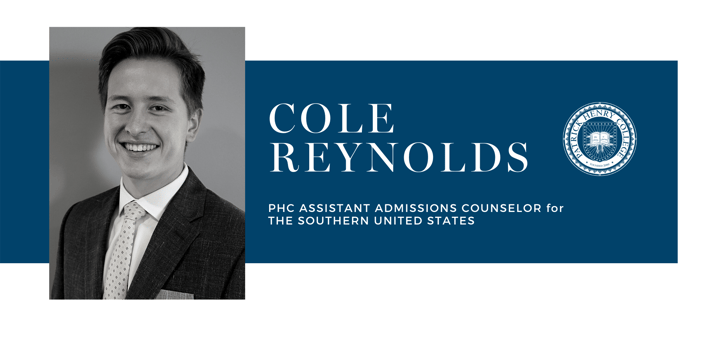 Cole Reynolds is from Houston Texas and proud of it. He doesn't wear a cowboy hat or walk around in leather boots. He doesn't speak with a southern drawl or listen exclusively to country music. Instead, what Reynolds does have is Texan-levels of friendliness and a knack for casual, southern-style hospitality. It's one of the many reasons Reynolds was selected to become an Assistant Admissions Counselor to the Southern United States.
He's easy to talk to, and if you're applying to PHC, he's here to help.
As a senior studying American Politics and Policy, a Student Life Resident Assistant leading a wing of fellow students, and as the Editor of the George Wythe Review, Reynolds is familiar with virtually every aspect of campus life. For students trying to get an idea of what life at Patrick Henry College looks like, Reynolds is the perfect person to talk to.
"I get to talk to applicants—and a lot of time their parents—and address their specific questions about campus, while just showing the around campus and telling them stories of things that have happened to me or my friends, " Reynolds said.
Since joining the office of admissions in 2018, Reynolds has helped introduce Patrick Henry College to dozens of students. He is currently managing application accounts from Texas, Arkansas, Oklahoma, and Missouri. To him, recruiting students that fit the mission of Patrick Henry College is more than just a job on campus—it's something he's been passionate about since he came to PHC.
"My admissions experience was really good," Reynolds said, "and so I always wanted to work in admissions."
"I have seen how much I've benefited personally, professionally, academically, spiritually from the school and the program that I'm a part of. I want to let other people know that if they come here they will benefit from it as well," Reynolds said.
If you'd like to talk to Cole Reynolds or if you would like to talk to someone about what student life is like at Patrick Henry College, reach out to the office of admissions! They would be more than happy to talk to you or put you in contact with someone who can answer your questions.


Click below to get to know the rest of the admissions team!