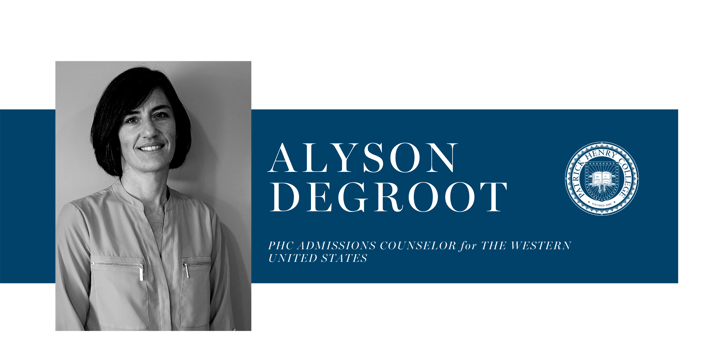 If you live somewhere between Nebraska and California and you've started the application process at Patrick Henry College, chances are you've already met Alyson DeGroot. If you haven't spoken with her over the phone by now, you've most likely received an email from her or one of her voicemails.
She's your Admissions Counselor.
Originally from the state of Maryland, DeGroot has a degree in Journalism and professional background in quantitative social sciences. In practice, that means she's been trained to write news and knows how to find trends in large batches of numbers—not a skillset you'd normally find in someone working for an admissions office.
It wasn't a love of reporting or an affinity for crunching spreadsheets that brought DeGroot to Patrick Henry College's Office of Admissions in 2019. Instead, it was a love for people, a devotion to education, and a passion for equipping a new generation of young American professionals that prompted her to join the team. She believes that PHC is preparing students to think excellently and live meaningfully.
"The proof is in the pudding," DeGroot said. "I see people that come away with critical thinking skills…looking through a Biblical perspective and really trying to honor God in how [they] think and act."
To DeGroot, it's this emphasis on biblical and critical thinking that sets Patrick Henry College apart from so many other collegiate institutions in the nation. Instead of merely informing students of facts or injecting them with opinions, PHC equips its graduates to purposefully evaluate their beliefs and to process information carefully. Through the college's 63-credit classical core curriculum, students examine ideas like nominalism, postmodernism, socialism, nihilism, and so many other powerfully influential concepts through classes like classes like Logic, Principles of Biblical Reasoning, Theology of the Bible, and Philosophy.
From school administrators to classroom professors, every faculty member at Patrick Henry College plays a unique role in preparing and nurturing their students to face the challenges at the highest levels of social, academic, and professional life post-graduation.
For DeGroot and the rest of the admissions team, that means recruiting the right students. The workweek brings phone calls, team meetings, applicant updates, spreadsheets and many other tasks that keep the office wheels moving. All the while, they're looking for the best and brightest students who fit the mission of Patrick Henry College.
DeGroot has the school's mission statement printed out on a piece of paper in her office. It's the statement that informs the purpose and direction of the college. It reads:
"The Mission of Patrick Henry College is to prepare Christian men and women who will lead our nation and shape our culture with timeless biblical values and fidelity to the spirit of the American founding. Educating students according to a classical liberal arts curriculum and training them with apprenticeship methodology, the College provides academically excellent baccalaureate-level higher education with a biblical worldview."
With this kind of a purpose in mind, DeGroot knows her time in Patrick Henry College's office of admissions is more than just a process of getting applicants from a high school classroom and into a college dorm. It's a little larger than that.
"I get to be a part of harvesting the next generation that might be able to change the trajectory of what we are doing in the church as well as in America." DeGroot said.
______
Want to learn more about the philosophy of education at PHC? Click here...