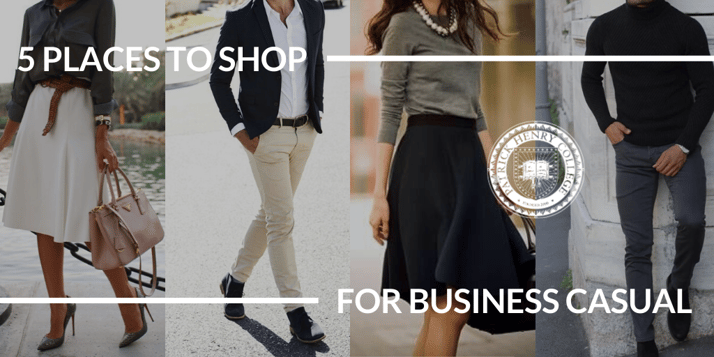 We put together a list of Patrick Henry College students' favorite places to shop for a business casual dress code. With these specific brands and stores, you'll have a quality business casual wardrobe that will last a lifetime.
1. J. Crew
If your style is bright, preppy, and sleek, J Crew is a great option for business casual. Along with pencil skirts, blouses, and chinos, J Crew has high quality blazers for both men and women.
What to Buy: Pencil Skirts and Blazers.
Price: Less than $125.
Shipping: $5 Flat Rate Shipping, Free Shipping on Purchases of $100+.
2. Poshmark
If you're looking for classics, like a J Crew blazer, but don't want to pay full price, this secondhand site is perfect for you. On Poshmark, you're able to ask the seller questions about the item, get measurements, and see plenty of photos, so that you know you're purchasing exactly what you want. This is also a great place to find items that are normally out of stock or usually more expensive.
What to Buy: Hardly worn trendy pieces and/or accessories.
Pricing: varies but less than the market price!
Shipping: usually $6.95 but varies depending on seller.
3. Banana Republic
If you're looking for new trendy pieces at a great price, Banana Republic is a great place to start. They're usually having a sale on most styles of clothing and often offer 25% off their website, 40% off of select styles. Banana Republic is the place to find basic and trendy business casual pieces at a great price.
What to Buy: Blouses, dresses, slacks, blazers
Price: $30 - $150
Shipping: $7 - $10
4. Target
Target has all the necessities for a business casual wardrobe: professional attire at a reasonable price and accessories such as bags, shoes, and jewelry. If you love classy, delicate, or trendy pieces for a fraction of the cost, Target is the place to shop for your business casual wardrobe.
What to Buy: Sweaters, slacks, dresses, handbags.
Price: $12 - $50
Shipping: $5.99
5. Loft
Loft is a classic brand of cool yet classic business casual. Loft carries all of your wardrobe essentials, supplying trendy items that still help you achieve comfort.
What to Buy: Tops, Skirts, Dresses, Pants.
Price: $20 - $130
Shipping: $8.95 - $14.95