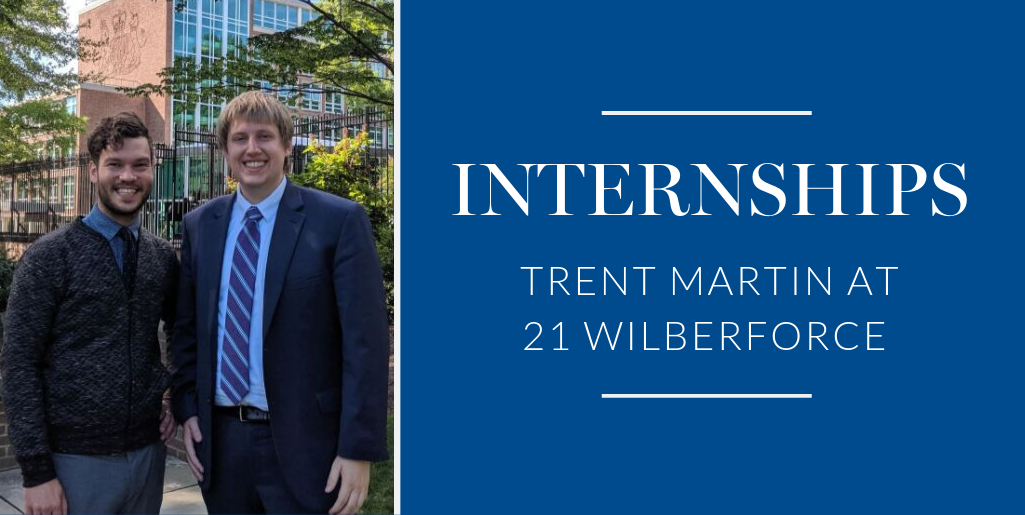 Trent Martin, a rising senior at Patrick Henry College, was already looking forward to the summer when he learned that he would be interning with 21 Wilberforce, a humanitarian advocacy group, based out of Falls Church, Virginia. He was excited about the opportunity, but he could never have anticipated that his summer internship would play a hand in promoting and protecting human rights around the world.
As Martin described his experience over the phone, the list of things he did, places he went, and people he met gradually grew longer and longer. Names of Ambassadors, acronyms of non-governmental organizations, and various pieces of legislation blurred past as Martin recounted the details of his internship. It quickly became clear that he had had an eventful summer.
"I had no idea that I would be doing so many awesome things," Martin said.
21 Wilberforce is an organization that fights for the humanitarian rights of victims of religious, political, and racial persecution. The work they do can take many forms. By and large, the organization uses policy reform, prison release, leadership training, campaign organization, network mobilization, and coalition building to reach people in need. These six core programs are what they use to counter institutional persecution and intimidation that are often used as weapons against freedom. They don't back down when things get ugly.
21 Wilberforce was there for pastors in Syria when their churches went up in flames. They lobbied in Nigeria when the fight against corruption and Boko Haram became a central political topic in Africa. And they stood up to save lives of Uyghur Muslims when persecution in Northwest China started to climb.
Over this past summer, Trent Martin took part in their mission.
While he didn't go to China or Iran, Martin worked behind the scenes, planning and organizing events in Washington, D.C. for round-table discussions on the topics and legislation that make a difference.
On a regular day, Martin would ride a bike into work, read up on the news, and create tweets on human-rights current events. Then he would spend his time gathering research and working on logistics. Many of his tasks depended on the events happening in the humanitarian world that week.
Some of his most important work, for instance, was in organizing and helping set-up discussions in Washington, D.C.—like the Ministerial to Advance Religious Freedom.
The Ministerial is an international event that brings legislators, activists, and NGOs together to share stories of religious persecution. It's the largest human rights event hosted by the Department of State with over 100 countries represented, figures of state in attendance, and even Vice President, Mike Pence. This year, one of the many topics covered was the concentration camps in China that targeted religiously and ethnically distinct women.
It wasn't uncommon for Martin to see and interact with international officials who had joined in the humanitarian cause. Martin also had the opportunity to present the humanitarian cause himself by briefing some of the diplomats from EU on the humanitarian situation in Nigeria including the Italian Chief of Staff.
Martin's internship is now over and in late August he will be back at Patrick Henry College attending classes, taking notes, and writing papers. But he's going back with an added sense of perspective. He wants to continue to press for religious freedom and human dignity.
"I really have had a burden placed on my heart from hearing about the victims of religious persecution," Martin said.
Click here to read more about internships at Patrick Henry College!