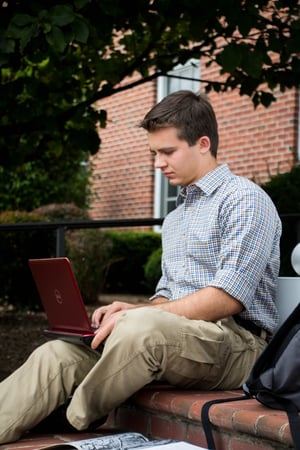 It's Tuesday, and 19-year-old Nathan Hillanbrand has just spent the last hour and fifteen minutes in class, discussing American history and Christian worldview with Dr. Robert Spinney. In another hour, he'll be washing dishes and waiting tables at a local retirement home.
Hillanbrand is just one of many students who have been attracted to Patrick Henry College for its Christ-centered and rigorous academics — but rather than living on campus in Purcellville, Virginia, he lives in Skippack, Pennsylvania.
"I almost wouldn't have it any other way," Hillanbrand said. "I'm very happy that I'm able to help my grandparents and help my mom. I like that I can still work the jobs I was already at."
For sophomore Kelly Freestone, there's not much time for extra-curricular activities between four online classes and a two-hour drive to attend Latin IV in person.
"School is my week," she laughed. "I try to view the drive as a break."
Dual enrollment student Elizabeth White juggles debate, moot court, two HSLDA classes, bluegrass band practice, and takes United States History with Hillanbrand and Freestone. All three agree that they feel very connected with their online classmates.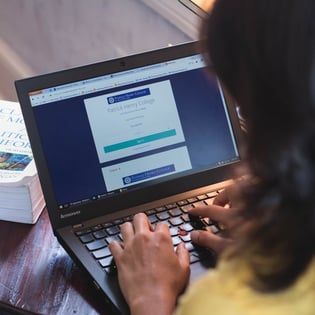 "I wish I could meet everybody in person," White said. "I really feel like I know them. It was so sad last semester when Christmas break came!"
"I think one of the reasons we feel connected is there's a core group of students that take the same courses," Freestone noted.
"I love everything about PHC," White said. "Distance learning has given me a way to get the education and the level of academic excellence that I want, while not having to leave my home, my mountains."
"Before, because everything was unknown, I didn't want to leave everything and start my life somewhere else. Now it's like continuing my life, not an abrupt transition," Hillanbrand said.
Hillanbrand and Freestone look forward to attending classes in person and meeting their on-campus classmates, but as Freestone pointed out, life is going to be pretty different: "I'm going to have to get dressed every day!"



----------------
This story was originally published in PHC's student newspaper, The Herald. To learn more about PHC distance learning, click the button below!