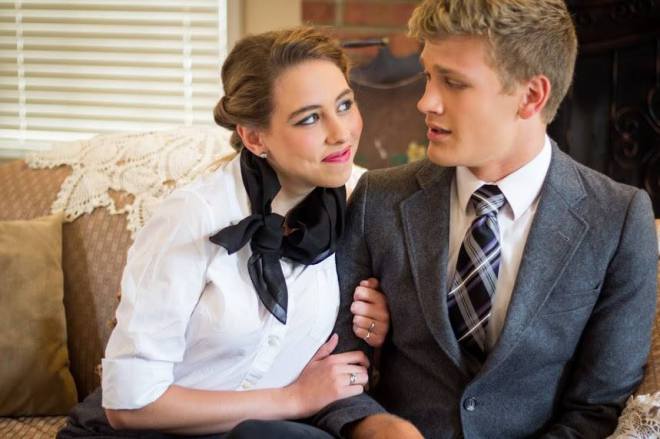 By Timothy Wier
1) It's an Eden Troupe Production.
From the tears cried in Our Town, to the beautiful melodies of Fiddler on the Roof, to the heart-pounding battle scenes in Henry V, Eden Troupe has time and again put on high-quality productions that make the audiences yearning for more. Arsenic & Old Lace definitely lives up to the tradition, bringing in Eden Troupe veterans and newbies, a extremely talented and committed production team, and a incredibly hilarious script right here to the campus.
2) It costs less than a movie ticket.
Plus, you don't have to spend the extra money on refreshments. Skip the movies and come on to see a real performance, featuring the best that the PHC student body has to offer.
3) It's a free ab workout!
Trust me, with all of the laughing you'll be doing, you can definitely skip the gym for at least a week—two weeks if you come twice.
4) Witty dialogue.
Joseph Kesselring's masterful use of the English language in his dialogue only adds to the hilarity of the characters and the setting. Subtlety—along with puns—is the name of the game for this play.
5) It's like Clue, but you already know who the murderers are.
Add the fact that the murderers are two, kind, Christian old ladies with a dramatic critic, psychopath, and a man who thinks he's Teddy Roosevelt for their nephews.
6) Theater-in-the-round.
Our amazing production team will be transforming Town Hall into a surround-sound experience for audience members. Whether you are sitting center stage, in the wings, or somewhere in between, you can immerse yourself in the production like never before.
7) A mix of stage veterans and newcomers.
Veterans of Much Ado About Nothing, The Screenwriters, It's a Wonderful Life, John: His Story, and Henry V are all part of this cast, ranging from sophomores to seniors. But it's not just the veterans who are taking the stage. This production features several freshmen—and not just as the dead bodies!
8) Teddy Roosevelt.
Played by Luke Thomas. If you don't know what that means, you'll have to come out and see.
Be sure to purchase tickets for Arsenic & Old Lace here.