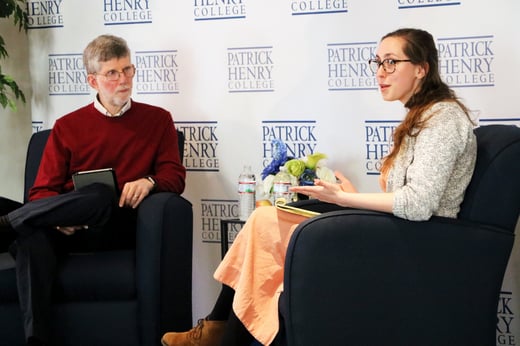 Dr. Marvin Olasky, Editor-in-Chief of WORLD Magazine, spoke with The Atlantic magazine writer Emma Green at the Newsmakers Interviews at PHC in April. Green has, Olasky noted, been willing to offer balanced coverage of contested topics like abortion in what he called "probably America's best center-left publication."
Dr. Olasky noted that "journalism is a great mission field that's also fun, but we should acknowledge the degree of difficulty when we go against our [culture's] current sacred cows." How, he asked Green, can students help to create a media space that is more ideologically diverse?
"Get into the mix," she said. "Don't think that there are no students from an evangelical background in the news media. I have very close friends in newsrooms who are evangelicals who have been able to succeed."
"We were delighted to host Emma on campus and give our students a chance to meet her," said Dr. Les Sillars, Professor of Journalism. "For those students who are interested in working in mainstream media, it's important to understand that they will encounter a lot of different kinds of folks. Some, like Emma, are far more open-minded than conservative critics might imagine."
Dr. Olasky, although no longer the Distinguished Chair in Journalism and Public Policy at PHC, has welcomed many PHC Journalism Majors as interns at WORLD Magazine and its daily podcast, The World and Everything In It. Dr. Sillars is now a commentator on WORLD's podcast, and PHC alumna Harvest Prude (Class of 2018) joined the organization's Washington bureau last summer.