Ryan Gilles cringed as toilet water splashed on his shorts while scrubbing the dirty commode that served the Athens Refugee Center (ARC) for Christians.
He cleaned alongside Ramin, a 22-year-old refugee from Iran, who was on staff at ARC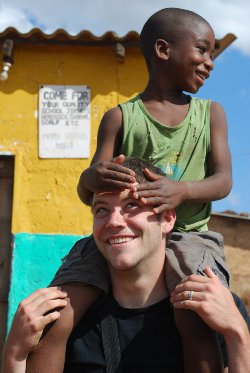 "You know why I love cleaning bathrooms?" Ramin asked, stopping his work and looking directly at Gilles.
"I have absolutely no idea, Ramin," Gilles responded, flinching as he received another dose of toilet water on his shorts.
"I love cleaning the bathrooms because it reminds me how great God is and who I am," Ramin said, still smiling.
Heartened by this new perspective, Gilles couldn't help but smile too.
While attending PHC, Gilles majored in journalism, played on the soccer team, participated in mock trial, and led worship at chapel. But his real passion was found in ministry and missions. After a summer missions trip to Zambia in 2010, he dreamed of a ministry that would allow him to witness to others while telling their stories along the way. What he discovered was International Teams (ITeams), a Chicago based organization whose vision for missions and writing paralleled his own.
After graduating from PHC in December of 2011, he signed on with ITeams for a full-time missions trip over a 15-month period, during which he would be traveling to 10 different countries. He teamed up with Andrew Nicodem, a Wheaton College graduate, who shared a passion for missions, writing, and photography. Together, the two of them are traveling the world, witnessing, and telling the stories of those they encounter.
"This project is not driven by any extraordinary talents that Andrew or I possess and I can't promise you that anything we do will end up on the cover of TIME Magazine," Gilles wrote in his personal blog. "But I can promise you this: that we serve an extraordinary God who calls ordinary people to use their ordinary passions to do great things for His glory. At its heart, that is what this project is all about."
Each week, Gilles and Nicodem serve those around them by helping at Christian refuges, encouraging ministry teams, and assisting in local ministries. Alongside hands-on ministry, they write about what they see and who they meet, and they tell the stories of those who've risked everything to serve the God who gave them their names and stories.
Gilles believes that he would not be where he is today if it were not for the time he spent at PHC.
"Sure, I learned how to write a news story and a profile," he said. "But you can learn those basic journalistic skills anywhere. I think the reason my time at PHC was so powerful was because it helped shape my vision for how I wanted to use those skills. I graduated with this burning desire to put my talents to work in some way that might impact people, and I hope and pray that the Lord uses this project to do that in some way, big or small."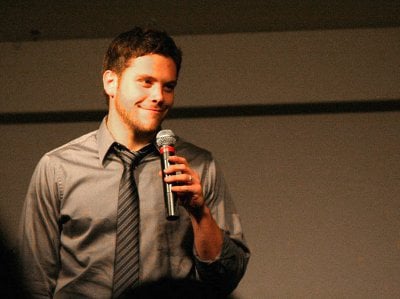 In high school, he was drawn to PHC through his participation in speech and debate. It taught him the power of a message well-communicated. He chose PHC because it was the kind of place "where students go when they have a goal and a message that's worth telling well," he said. Although he went into his freshman year with idealistic standards about changing America, he came out with a clear understanding of PHC's motto, "to lead the nation and shape the culture."
"It's not about being a leader, or the issues, or winning the culture war," he said. "It's about worshiping a God that's worthy of your very best and wanting to make His name known."
Gilles' realized he could combine his communication skills and heart for missions in a way he had never imagined during the summer of 2010, while in Lusaka, Zambia. He recalls driving away from an orphanage in Lusaka's slums, watching the kids run after the bus, smiling and waving. Earlier that day, he had met a woman named Elina who founded and ran the orphanage by herself.
"I remember thinking how these kids have a chance in life and know who Jesus Christ is because of the endless work Elina does each and every day," Gilles said. "I think those are the kinds of stories that are so powerful and can change a life. I think those are the kind of stories people need to hear. And that's when I started thinking about how I could use my love for writing and communication to do that."
He decided that he would tell the stories of those he met, stories of people who had quietly and faithfully served God by doing what He put in front of them without questioning or complaining. People needed to hear these stories, he believed, needed to see what God was doing in Zambia.
Two summers later and a bachelor's degree under his belt, Gilles found himself following his vision to Athens, where he found himself scrubbing toilets with the Iranian refugee, Ramin. Writing about his encounter with Ramin, he reflected on the ways in which "we are all refugees of sorts on this road called life. Ramin reminded me of that as we cleaned the toilets last Saturday. And as we scrubbed that day, I thought about how no one is truly home just yet, and while we walk this long road ahead, we keep our eyes fixed on Christ in whose presence we will one day belong for all eternity. I long for that day. But for now, we are cleaning bathrooms in Athens."
Gilles' journey around the world has only just begun. Athens was just the first stop on his atlas. To keep up with his adventures and watch him travel the world, click here to read his blog, filled with updates, pictures, and stories from along the way.
If you feel called to partner with Gilles, through finances or prayer, click here.