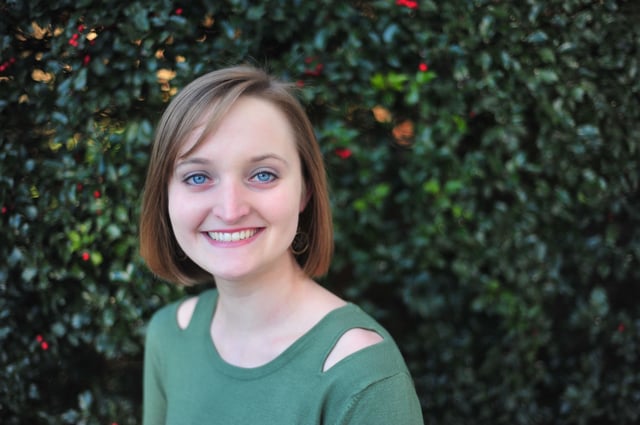 Life has a funny way of surprising you. Kathryn (Kat) Blackhurst would be the first to say so. She has a huge smile sometimes hidden by swishing light brown hair, is a self-proclaimed sufferer of "middle child syndrome," likes to laugh, and never thought she'd end up in politics.

Growing up in Pennsylvania, she could always be found reading, writing, or taking walks. She played the harp in high school, competed in NCFCA, and picked up cross-stitching.
Prior to coming to PHC, Blackhurst went to a journalism camp for PHC Teen Camps. "I left terrified of journalism...I thought, I can't write that way, it's too precise and focused."
When she came to PHC Blackhurst initially debated majoring in literature. She chose the Liberal Arts track in Journalism rather than the Politics track because she didn't really like politics. Her first graded assignment from Journalism I came back so marked up she burst into tears. But with journalism professor Dr. Les Sillars' encouragement, she kept going.
"[Journalism helped me] focus and fine-tune my writing," Blackhurst said. "I really believe in the inherent and connective power of stories to reach across different backgrounds and life experiences and draw people together. That's what I wanted to learn how to do, tell a good story, and journalism helped me do that."
After finishing classes early in December 2015, she started working full-time in 2016. When her first position had company wide staff cuts, she found herself receiving her diploma jobless and uncertain of the future.
"Then by God's grace, I able to find a job just a week after I graduated." The job? Covering politics for Laura Ingraham's news website, LifeZette, in the heart of the bustling political scene in D.C.
While Blackhurst never thought she'd be a political reporter, now she knows covering politics is simply covering "what everyday Americans are concerned about," Blackhurst said. I really see myself at LifeZette as a watchdog...I've really come to see the value of informing people of what is going on in Washington."
She credits her smooth transition into the working world to PHC and the journalism program because "It prepared me to work in a fast-paced newsroom with strict deadlines," Blackhurst said.
She churns out at least two pieces a day for LifeZette. She gets her assignments and from there begins researching and contacting sources. Blackhurst refers to herself as a "dinosaur" when it comes to social media, but she finds herself checking Twitter frequently as a way to keep on top of the news.
"The newsroom is always hopping; [we're] always watching politics with bated breath," Blackhurst said.
While commuting to D.C. and working at LifeZette was an unexpected place to end up for a self-described homebody, Blackhurst found that "God has really walked with me every step of the way, even when I didn't know the way forward."
When she is not working, she is exploring D.C. with a friend, visiting her family who only live a few hours away. She also cross-stitches when she has a time.
"There is a need for Christian journalists who are dedicated, committed to the truth, and to holding people accountable. That's something I've found in politics at Washington D.C."
Blackhurst is still in an environment where she finds herself still learning every single day.
"My education was invaluable; the curriculum thoroughly prepared me to enter the workplace," Blackhurst said. "It's certainly possible for Christian journalists to thrive out here."
Read Blackhurst's advice for aspiring journalists here.