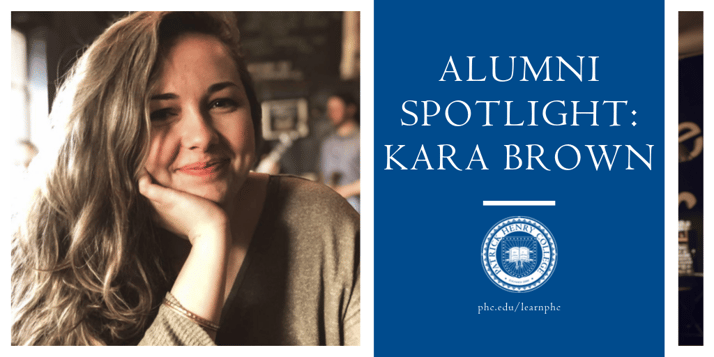 Journalism alumna Kara Brown ('19) began an internship with The Heritage Foundation in September. We sat down to catch up with her and chat about her experiences.
Q: What are you doing at Heritage?
I work for The Heritage Foundation's multimedia department which means I spend most of my days recording and editing podcasts or videos, and occasionally helping write segments of podcast.
Q: What surprised you about the job?
I was surprised how well known PHC is at Heritage considering how young PHC is. There's been more than one time that someone's been like, "Woah, you go to Patrick Henry! Wow, that's cool!"
Q: What's your favorite part of working for Heritage?
I love when I get to help write segments for the podcasts. I think I had the impression that if I focused on learning technical skills like video or podcast editing and pursued jobs in that field, I could never write again. I was worried about that happening, because I love writing. However, I've been pleasantly surprised that there are still lots of opportunities to write.
Q: What lessons did you learn at PHC that are helping you where you are now?
Taking Multimedia Skills class with Dr. Sillars really helped—I use that class every day at work. Also, having the time to thoroughly learn all the political, historical, and social concepts we study at PHC is invaluable. D.C. is such a fast-paced place that there's barely any time to sit down and learn concepts. So, being able to be like "Yeah, I know how impeachment works, or what Burke meant when he said this, or the importance of a particular Supreme Court case," means you get to spend your time talking about things you've already been thinking about instead of playing catch-up.
Q: Do you have any advice for students thinking about future jobs?
If you're interested in working at a particular place, check to see if a PHC alum has worked there. Send them an email, or grab coffee with them. Ask them whatever you want to know about the organization, and see if it'll be a good fit for you. PHC alum are everywhere in D.C. and there's a decent chance that someone has worked at the place you want to work or has done the type of work you're interested in.
---
Learn about the newest track in the Journalism major by clicking the link below! It's one of three tracks: Political, Classical Liberal Arts, and Entrepreneurship.