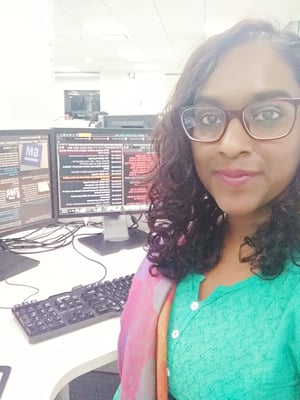 Students often ask me about the possibility of becoming a foreign correspondent. It's not easy, but it can happen. Lisa Mattackal interned with Reuters News and joined the company soon after graduating. Here she gives us a glimpse of life in India in an entry-level position with a major news service.
--Dr. Les Sillars
Where do you live now?
I currently live in the city of Bangalore, India. (Bangalore is in southern India, and nicknamed India's "Silicon Valley" due to the number of IT firms and startup companies.) I started working for Reuters News a few months after graduating from PHC in 2017.
The Reuters newsroom in Bangalore covers business and financial market news from all over the world. My job is to watch "the wire," where I see every story that Reuters publishes from anywhere in the world. I match incoming stories with appropriate pictures from Reuters databases, then publish them on the appropriate online pages. My team also compiles and publishes daily newsletters on stock, bond, and foreign exchange markets.
Describe a typical day at work.
As soon as I reach my desk, I take over the set of news pages allotted to me for that week (these can range from a page specifically for Middle Eastern news to one for global macro econ stories.) I ensure that all the stories published so far have appropriate pictures with accurate captions. Then, I'll spend the rest of the day watching the wire for stories relevant to those specific pages. Simultaneously, I'll spend time checking both Reuters other news outlets to get a feel for the day's top stories. I have to curate the order and number of stories visible on a page based on their importance and relevance to readers. For example, if I'm managing the world politics page during active European hours, the top stories on the page might be on Brexit. Around 7 a.m. ET, a story about President Trump's immigration policies might take the top slot. In between, if I'm not assigned to write a specific newsletter, I help my coworkers edit theirs. It's quite a bit of multitasking!
You grew up in the U.S. but are familiar with life in India because of your family's heritage; what are the biggest benefits and challenges of living and working in a foreign country compared to life in America?
My family still lives in Bangalore-I lived there with them for five years before attending PHC-so in many ways, I've come "back home." It's been great to reconnect with my family and friends, attend the church where I spent most of my teens, and enjoy the vibrancy of life here. Indian culture is generally more family/community centric than American culture, so I've enjoyed that. It's also exciting to live in a city that's still rapidly developing and growing-although traffic seems to get worse every day. I now hail rickshaws via Uber. It's also been interesting to see many of the same political issues and trends I saw in the US-struggles over immigration, populism, religious freedom, etc.-develop in India. As I've seen similar issues contextualized in two drastically different cultures, my perspective on a host of issues has changed. At the same time, I miss plenty of things about America: friends, Chick-fil-A, orderly driving :) The language barrier is also a struggle, although I'm studying Hindi in my free time.
What advice would you give to students interested in working as a journalist overseas?
For one, don't put your language credits on the back burner! In addition to your journalism classes, take advantage of the other classes at PHC to hone in on a specification. Find a specific country, business sector, or political field that interests you, and build up your expertise in that area. Learning to write is important, but you'll really stand out if you pair strong subject matter knowledge with your journalism skills.
What did you learn at PHC that helps you in your life today, whether at work, at home, in a different culture?
The concepts of "newsworthiness" and "timeliness" that I studied in Journalism I are incredibly relevant. I spend 8-9 hours a day scrolling through literally hundreds of stories, and I have to make snap second decisions about what stories are the most relevant. Additionally, I find myself increasingly grateful for the core classes at PHC like Freedom's Foundations and U.S. History. The teaching and discussions in those classes helped me shape a mental framework that helps me to put the news in a broader social, political, and moral context. That's been incredibly helpful to me, as financial market news is incredibly transient and volatile by nature, and the general news cycle seems to get bleaker by the day.