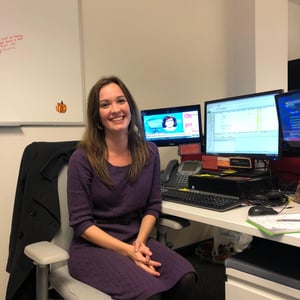 Grace Richardson (Journalism, Class of 2017) started as a production assistant last month on Fox News@Night, hosted by Shannon Bream.
Grace joins PHC classmate Kendra Olson (Class of 2017), who started at Fox News@Night last fall. Their job is to make sure that when Bream says something like, "We're looking here at video of the hurricane," that the producer has the right clips to air.
Grace shows up at Fox's Washington bureau at about 3:00 p.m. and spends the first hour or so catching up on the news of the day and dealing with email, everything from press releases to updates from correspondents. The daily editorial meeting starts at 4:00, and the producers detail the stories that will go into that evening's show.
The producers work with reporters to select the video and soundbites that go with the different stories. Then Grace and Kendra find for each "segment" the appropriate video and soundbite clips from Fox's database or news services such as the Associated Press. They assign the clips to editors to prepare for airing, and then make sure they are loaded into the system in time for the 11:00 p.m. show.
The pace in the office can be relaxed in the early evening, but "it's definitely a pretty exciting second half of the day," Grace said: "A lot of times we're still dropping things into the second half of the show while the first half is already airing."
Her journalism studies helped prepare her to think carefully about the ethical decisions she makes daily, Grace says, and to do the right thing. "Our business is very fast," she said, "and I think that in that situation the ethical temptations can be stronger, to just let a rule slide or to cut a corner. We discussed ethics in class, and the awareness of that is very helpful."