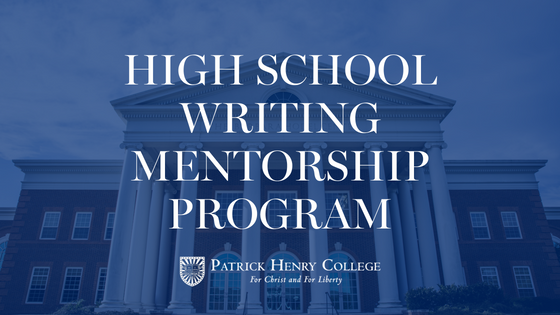 Calling all high school students! As you jump into yet another school year, we wanted to make sure you are up to date on the latest with our High School Writing Mentorship Program.
What is it?
A program that matches you with a writing mentor from Patrick Henry College. It's open to all high school students pursuing any form of writing, academic or otherwise.
How does it work?
However you want it to. Once you're matched with a mentor, you can communicate with them regarding your unique needs. Whether you want help with basic grammar and sentence structure, or are working on a college application essay, your mentor will meet you at your level and help you meet your goals. Find out more, connect with the coordinator, or sign up here.
Interested in being a writing mentor?
To our PHC students and alumni: If you'd like to participate as a mentor, click here to download the application. Once you've finished, email it to Allison, the program coordinator to be considered.
---
We've got a wealth of high school resources waiting to be used. Check them out below!