Seek God's best for your training!
Get the High School Resource Guide for College-Bound Students
There are several ways a high school student may prepare for programs at a selective college.
Pursue a rigorous college-prep curriculum

Commit to engaging in activities that will make you a well-rounded Christian student.
This college-preparation guide illustrates ways that students can make the most of their high school years as they prepare for our college, including: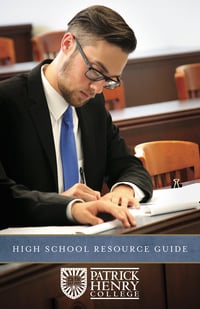 Financial aid information

Suggested curriculum

Suggested reading list

Sample high school transcript

Other resources to guide you in your time of preparation
Complete the form to download the guide.