In France, Alumna Pursuing Both Ministry and Vocation
September 7th, 2012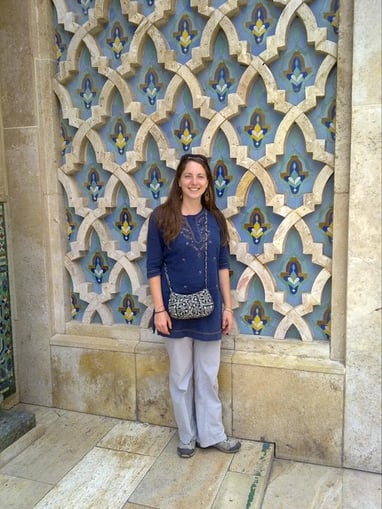 Kelly Orsini arranged a platter of cookies and tea, along with supplies for a craft. As women at the shelter came in the room and sat down, Orsini shared a Bible story with them. She was surprised by the openness of these immigrant women to discussing God and their faith, despite the secularism of the French culture around them. In fact, they loved attending the Bible meetings and discovering the stories of other migrants in Scripture.
When Orsini (Gov. IPP, '08) attended Patrick Henry College, she filled her days with classes, clubs, and extra-curricular activities. She found that the fuller her schedule became, the more she was able to accomplish. Alongside being on the board of Eden Troupe for three years, sewing costumes for the plays, and acting in three of the plays, she was an RA, participated in Model UN, was a peer mentor, sang in the chorale, was involved in the international club, and worked for HSLDA.
Orsini grew up in Europe until she was 10 years old and, as a result, her upbringing was an eclectic mix of Euro-American culture, reflecting itself in her dual citizenship in France and the US. While she spent some time in Germany, her European home (and heart) belonged to France. Her childhood instilled within her a strong love of her mixed cultures. She grew up loving the tight-knit French communities and the celebration of close families and good food.
"Home has always been where my family is," she said. "Looking at it from the perspective of an earthly pilgrimage, being a dual-citizen emphasizes that this world is not our home. We have a heavenly home and that is finally where we will be at rest, though along the way there are plenty of refreshing places that God provides to His people on their pilgrimage. I think my nomadic upbringing gave me a particular empathy for those who are migrants, and that's part of the reason I resonated with the immigrant ladies I served in France. I know what it is to be in a new country, though I also keep in mind that they have even more challenges to face when coming from difficult situations in their countries of origin."
Her classes at PHC only served to reinforce the importance of culture. Classes, like Freedom's Foundations with Dr. Mitchell, emphasized to her that the way a society lives is the product of an idea.
"A culture highlights what you value, and what you value affects what you do," she said. "Americans value individual liberty, so we do a lot of things to maintain that independence, to the extreme of individualism. In France, that kind of independence is not valued as much; instead relationships are valued more. That affects the way things get done in each society."
Part of her desire to attend PHC stemmed from the school's focus on the relationship between faith and reason, and its role in the public sphere.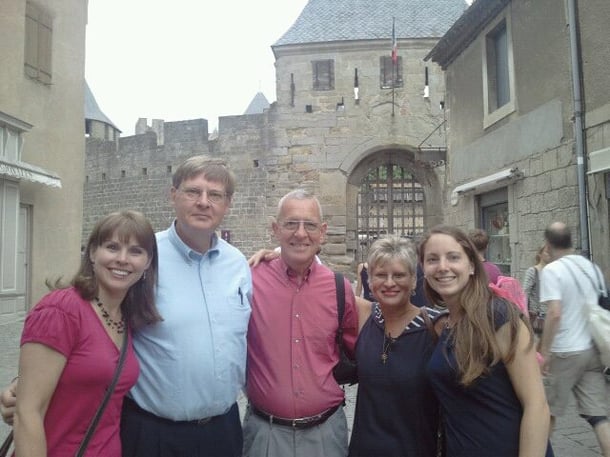 "Faith and life are meant to be integrated," she said. "Doing so enables a society where ideas and beliefs can be questioned and reasoned through, instead of dismissing them out of hand simply for being 'religious.' This contrasts with the French model, which has a tendency to relegate religion to the private sphere, separated from public life, but then ends up having to legislate all sorts of religious issues, such as the ban on 'ostentatious' religious symbols in schools, which curiously doesn't apply to students at public universities."
After graduating from PHC, Orsini took a job as a research analyst with a think tank on national security reform. Six months later, she realized that sitting at a desk and facing a computer screen was not the life she wanted. She felt her heart being pulled towards France. She had been working with missionary friends in France since 2002, and had been planning on returning to the country to work with them after college. Upon receiving an invitation to help them, she eagerly agreed and found herself serving with the International Christian Community of Marseille, along with volunteering as a literacy teacher at an immigrant center and helping with the Bible program at a women's shelter.
While continuing her involvement with the Marseille church, she attended a French university to obtain a master's degree in intercultural management and religious mediation. During her time in France, she also continued the Arabic studies that she had started in the United States, motivated by her interest in the Arab world which had grown in Dr. Aikman's classes on the history of Islam and the Modern Middle East.
"Learning a completely new alphabet put me in the shoes of my literacy students who came from a non-Latin script," she said. "Plus, once you gain a fluency in another language, you can communicate with all the richness of connotation and cultural assumptions that play into our everyday dialogues. So much can get lost if you are communicating with only the literal translation of words. That's why I'm very glad to be teaching French right now, since I can help my students understand France's culture as well. It's contributing to international understanding in a small way. Nelson Mandela famously said, 'If you talk to a man in a language he understands, that goes to his head. If you talk to him in his language, that goes to his heart.' Every person who learns another language is being equipped to speak to the heart."
While she plans to always stay involved in international affairs, up next for her is marriage and continuing to teach French at The Potter's School, an online program that offers classes to homeschooling families. She is excited to "continue using the gifts God has given me, more specifically to serve my community, wherever He places me."
She loves the idea of going wherever He wants her, because her life, full of new locations and new faces, has taught her the importance of having a Heavenly home – a pilgrim's sure and certain hope.