All services are open for students, faculty, and staff Monday-Sunday from 6:00am to 12:00am.
Coffee Lounge
The new coffee lounge features original artwork and a pleasant ambiance to rival any commercial coffee chain. A raised stage provides a location for informal or formal performances, which can be scheduled through the Office of Student Life.
Gymnasium
The centerpiece of the Barbara Hodel Center, PHC's full-size gymnasium is the new home of the Sentinels and Lady Sentinels basketball teams. It features professional-grade gymnasium flooring, six NCAA-standard basketball hoop systems, full-size telescopic bleacher seating, and compatible net equipment for three professional-grade indoor volleyball courts. Floor lines and markers also delineate four professional fencing lanes.
The gymnasium is also used for all-campus events and celebrations, including Freshman Welcome Week and Career & Activity Fairs.
Fitness Center
The 3,800-square foot fitness center in the east wing of the Barbara Hodel Center features high-performance exercise equipment for cardiovascular training, circuit and free-weight strength training, and resistance training.
Whether you want to lose weight, build muscle, relieve stress or workout with friends, the BHC Fitness Center can help you meet your goals. The facility also includes a large athletic equipment checkout room, offering gear for racquetball, tennis, volleyball and basketball.
Indoor Running Track
This specially-designed indoor running track spans 1/10 of a mile, and overlooks the central gymnasium. Perfect for maintaining regimens as fall turns to winter, it features a synthetic rubber finish and graduated turns.
All-Purpose-Studio
Equipped with mirrored walls, padded floors, a kickboxing suspension system and a ballet bar, this facility is ideal for a variety of group-oriented activities, including: aerobics, Pilates, spinning (biking), kickboxing, and martial arts classes.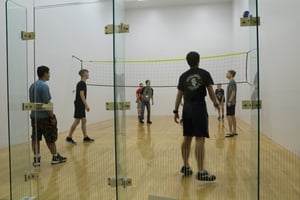 Racquetball Courts
Located in the Barbara Hodel Center basement, these two courts are fully enclosed by professional-grade court walls and tempered glass. They are also equipped and configured for rebound volleyball—popularly known as Wallyball.
Tennis Courts
Located directly behind the Barbara Hodel Center, these two hard courts are professionally graded and finished. A 14-lamp, comprehensive lighting system allows students, faculty and College employees to play matches far into the night.
Locker Rooms
These brand-new men and women's locker and shower facilities are fully outfitted for capacities that far exceed the College's current student demographic. Located in the basement of the Barbara Hodel Center, these areas serve the Sentinels and Lady Sentinels basketball and soccer teams, as well as a variety of intramural sports.
Chapel & Prayer Room
Open eighteen hours a day, the quiet, tastefully arranged chapel room is designed for personal prayer, meditation and private worship.
It is elegantly furnished with blue velvet kneelers, and paintings depicting the life of Christ.