College Alumna a Media Entrepreneur on the Rise
August 1st, 2012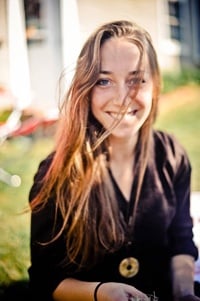 Man was created that he might create.
Rebecca Beach carefully set out nine paintbrushes, colored pieces of paper, and watercolor paints.
It is not a waste of a man's time to be creative.
She arranged everything on little black tables, and then opened the blinds to let the morning sunlight stream in the room.
It is not a waste to pursue artistic ... pursuits in creativity, because this is what man was made to do.
As girls from her wing poured in her room for wing chapel, Beach (Gov. APP, '11) sat on her bed and read from Edith Schaeffer's book "The Hidden Art of Homemaking," one of her favorite books. She asked the girls to paint a picture of whatever they found beautiful, as a way to express their God-given creativity.
He [man] was made in the image of a Creator, and given the capacity to create - on a finite level of course, needing to use the materials already created - but he is still the creature of a Creator.
When the pictures were complete, Beach hung them over her bed with a clothesline and clothespins.
Before arriving at Patrick Henry College in 2008, at the age of 22, Beach loved to organize… people. She spent two years at Warren Community College to get her associates degree in pre-law, and was heavily involved in politics, working to transform her little community college into a politically active school. She hosted a variety of speakers on campus, including PHC's founder and chancellor, Dr. Michael Farris, and frequently became involved in campaign work. She loved to plan political events and figure out the logistical details of everything.
At PHC, she pursued her love for both event planning and politics, coordinating annual 9/11 memorials, serving as vice chair and chair of College Republicans and managing the men's soccer team; she set up musical coffeehouses, helped on the homecoming committee and diligently worked to keep up with her classes. Looking back, she credits her many campus involvements at PHC with teaching her the art of event planning.
"It gave me a lot more experience and responsibility," Beach said, "and trained me for managing people and events. In event planning, you can plan, plan, plan – but then you need a team of people to help you actualize it. It made me realize my love for all the behind-the-scenes work."
During the spring of her senior year, Beach began searching for a new creative outlet and had conversations with her friend Susanna Foote about her love for blogs. Foote encouraged her to start her own blog, saying, "If you want to start a blog, just do it. Just start it."
Inspired, Beach launched her own blog, A Daily Something, which initially featured a post each weekday about things that she loved: a thrift store find, a project, an outfit, a pretty picture. Her early readership consisted largely of PHC students, yet she cleverly marketed the blog, sharing posts on Facebook, Twitter, and letting all of her friends know about her latest postings. It was a modest, determined start.
Fast forward a year and a half. Today, A Daily Something has exceeded anything she initially imagined, generating a positive revenue stream from a variety of paid positions. The elegantly styled blog has also gained a much larger following, attracting strategic connections leading to lucrative gigs as, among other jobs, a collaborative wedding planner in the DC and New York area. The blog's bright content, warm aesthetics and high-end appeal has gained her attention as a young media entrepreneur on the rise, spawning contracts to style a feature story for an international magazine and provide graphic styling for Blogshop; it has also allowed her to write pieces for Styled Magazine and direct styling and decor for a nationwide Christian blogger conference. Her blog, meanwhile, gets between 800 and 1,000 unique hits a day.
"It's not me," she said. "It's totally the Lord, orchestrating everything."
On the "about me" section on her blog, Beach declares that she is a follower of Christ, which has, in turn, connected her to other Christian bloggers around the world.
"I've received countless emails from other Christian 'creatives' who were encouraged to find another Christian in the blogosphere, and connect on that foundational level," she said. "I've been learning that it's possible to be a blogger and an entrepreneur and still glorify God in and through my endeavors. If I can share the gospel or just be an encouragement to one person through my blog and business, it's worth it! I want to make much of Him through this journey, and go where He leads."
Since graduation, Beach has worked tirelessly to promote her blog and grow her business, even offering, on occasion, to work for free, to build her resume and gain connections.
"Starting off in the creative world, it's important to develop a reputation and portfolio of your work," she said. "I've learned that, at times, it's beneficial to offer your skills, or even just offer your time, in order to grow your relationship, establish a reputation, and expand your portfolio."
While Beach cultivates her clientele, refines and updates her blog, she intends to continue increasing her readership, collaborating on projects, and meeting other bloggers. But, most importantly, she desires to go wherever the Lord takes her, because she knows—as her present journey demonstrates—that is the most exciting adventure of all.