Federal Clerk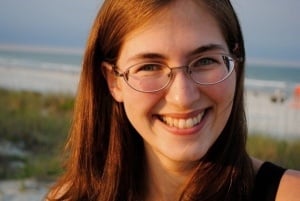 June 2011
When Dr. Robert Stacey asked Megan Kirkpatrick (Government, '06) in Freedom's Foundations class her sophomore year to relate her life ambitions, she replied, "to be a godly woman." Now, one Juris Doctor and a federal clerkship later, her goal is still the same. As she moves on to her next step in September—a two-year position with the Eleventh Circuit Staff Attorneys' Office in Atlanta, Georgia—she relates a story of God's faithfulness and leading over the last several years.
"I didn't really have any idea what I was going to be doing [after PHC]," Kirkpatrick notes. "However, God did!"
Her senior year of undergrad, she was considering ways to use her Government degree in D.C. Her parents advised her that continuing on to law school would be the best way to equip her for that.
"I didn't really want to get a law degree at the time, but I agreed to take the LSAT and see what happened," she recalls. "The moment I agreed to take it, I knew I'd wind up going to law school, even though I still wasn't keen on the idea. And go to law school I did, at the University of Alabama. I surprised myself and enjoyed it."
Several of Kirkpatrick's law school professors advised her to apply for a federal clerkship, one of the most prestigious positions a young lawyer can obtain. She did, and was soon working for the Honorable Bobby R. Baldock, a federal appellate judge for the Tenth Circuit of Appeals.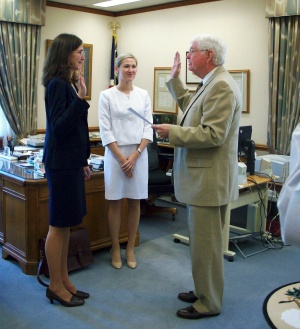 She marvels at the grace of God in leading her to work for "someone as wonderful as my current boss." Judge Baldock, she says, "sees it as a teaching opportunity." He both mentors his young employees professionally and takes a personal interest in their lives.
"God is really teaching me, 'Hey, trust me! I can give you things better than you imagined or even asked for,'" she says.
In the United States, the layer of federal appellate courts lies above the district courts and just under the Supreme Court. Panels of three judges listen to oral arguments or consider briefs on appeals from the lower courts, then render a decision. A federal judge's staff of law clerks usually helps with research and drafts the judge's decision. In so doing, they witness oral arguments and learn how a judge thinks.
"There is no pride of ownership among law clerks. We all work on the draft, and the opinion is the Judge's," explains Kirkpatrick.
Kirkpatrick volunteers that "my education at PHC prepared me really well for law school and for this job." She learned how to take a tremendous amount of data and distill the answer to complex problems. She also learned how to converse with people from many different backgrounds. Specifically, she mentions what she learned from Associate Professor of Government Dr. Mark Mitchell—"the idea that you really have to understand the argument of someone you disagree with.
"If you can't understand, it is impossible to know why you disagree," she summarizes.
Of her time at PHC, Kirkpatrick is most glad that she built relationships and got to know people, rather than spending all her time in her cubicle studying.
"I sure have not found the same kind of community of the same caliber since leaving PHC," she affirms. "When are you going to be able to have intense discussions with people who disagree on Christian things? We could debate all sides of an issue and think, what is the best way to do this, in the light of the Lord and in light of philosophy?"
She marvels at how God has worked the last several years.
"The Lord had plans, and I am following along," she states simply.
When Kirkpatrick moves on in the fall, another PHC alum, William Glaser (History, '08), will step into her current position with Judge Baldock, having recently completed his J.D. from Pepperdine University.