Raising the Legal Bar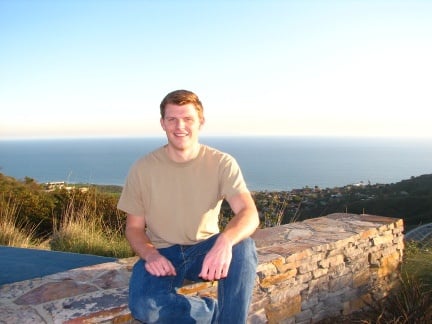 Will Glaser made a big impression at Patrick Henry College. As PHC's former student body president, winner of two regional moot court championships, a familiar face at the ACMA National Moot Court Championship and President's List honoree for eight consecutive semesters, Glaser graduated in 2008 with a full-tuition academic scholarship to Pepperdine Law School.
But his academic achievements were only part of the story. Glaser (History '08) has an undeniable charm, and with his 6' 4" stature, he makes a large impression without saying a word. First impressions of Glaser are likely still forming among his classmates at Pepperdine Law School, one of the fastest-growing law schools in the country, where he's wrapping up his first year of basic studies. A Christian university that doesn't require its members to be believers, Pepperdine has allowed Glaser to rub shoulders with a diverse crowd of non-Christians while preparing for a legal profession in a setting that he says genuinely values and encourages his faith. Glaser is experiencing diversity in other ways—through a host of new experiences and opportunities that have rapidly expanded his academic outlook and career expectations.
At a series of recent collegiate moot court tournaments, for instance, Glaser transitioned easily from carrying classroom briefs to holding a judge's gavel. Last December, he served as a judge at the Western Regional Competition in Long Beach, and in January he delivered verdicts at the ACMA National Moot Court Championship at Chapman Law School in Orange, CA. While he didn't actually judge his former PHC—who won a third national title in five years while sweeping first, second, and third-place trophies—knowing that two PHC teams were competing against each other for the championship brought a measure of relief. "I didn't have to worry about who was going to win," he recalls with a chuckle.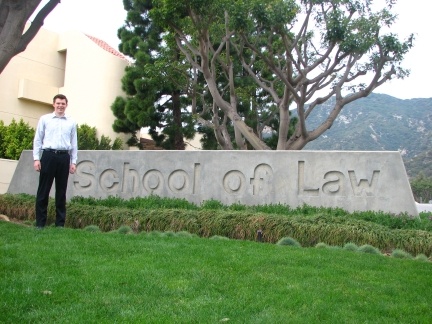 Another side benefit to judging moot court was the chance to reacquaint himself with a prestigious legal luminary. At the ACMA nationals at Chapman Law School, Glaser bumped into Otis Wright, a federal judge from the Central District of California whom Glaser met in 2006 at a moot court tournament. Future prospects were casually discussed, encouraging Glaser's hopes of "externing" for a judge in the coming year (in legal parlance, candidates are called "externs" rather than "interns").
"Right now, the focus is on classes," he says. "But there are a lot of things I hope to do at Pepperdine, one of which is to participate in moot court on the law school level." Toward this end, an assignment for his legal Research & Writing class allowed Glaser to interface with the law school's Moot Court Board in a competition that provided "my first opportunity to do a little bit of oral advocacy."
Glaser's personal rule of "going the extra mile" paid off not only in attracting scholarship offers from Pepperdine, but also from Washington and Lee, Willamette, Lewis and Clark, and the University of Oregon. The "Faculty Scholarship" from Pepperdine pays for all of his tuition, in addition to a monthly stipend.
Glaser says his first year of law school has been surprisingly pleasant—living in Malibu, occasionally stealing away to the beach, and even spending long hours at his desk analyzing cases and writing briefs. "When I first came to law school, I knew it wasn't going to be as much fun as moot court, but I've actually found that I enjoy it."

"One thing I can say for sure," he adds, "is that PHC prepared me exceptionally well for law school. And not just to make it, but to succeed. I love that my professors taught me big things in philosophy, government, and the world around me. It's hard work, but I'm used to hard work."
As his first year draws to a close, Glaser has narrowed his focus to a special attention to criminal law and constitutional law. "If I hadn't been at PHC," he says, "I think I would have been wrapped up in my tiny slice of reality. But now I can keep this broader framework in which to function."
True to form, Glaser isn't content to simply attend law school, but like many former PHC graduates approaches his law school studies as a strategic part of a larger vision to impact the culture for Christ. Recently, he gained acceptance to the Alliance Defense Fund's Blackstone Legal Fellowship, and he will spend nine weeks this summer in a leadership development program, interacting with some of the nation's top constitutional experts. For Glaser, a former PHC student body president who is working hard, looking toward the future, and hungry for new challenges, it's simply the next step on an exciting journey he has been walking with God. If his history is any indicator, big impressions are sure to follow.