Alumni Use Talents to Serve Youth in China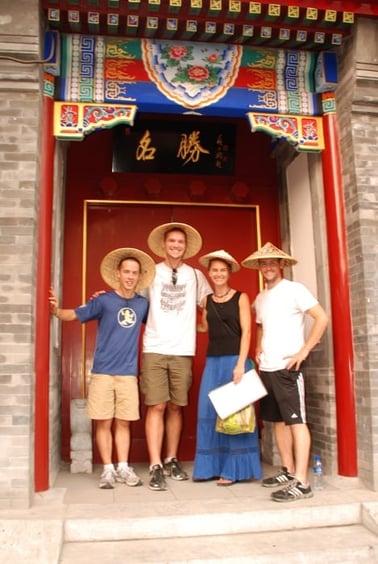 As the three PHC alumni toured the streets of Shanghai, China this past summer, discussing philosophy and reminiscing over the "good ol' days" of PHC, they found themselves rapping a lyric from Christian artist Lecrae's song "Don't Waste Your Life":
Your money your singleness marriage talents and time /
were loaned to you to show that Christ is Divine.
"It became a theme song for us," said Jensen Near ('10). "We want to take everything that's at our disposal and apply it towards God's glory."
Near, the current men's RD at PHC, and Katie Teubl ('07), current head debate coach at King's college, invested the bulk of last summer in Shanghai, joining former classmate Kenny Ly ('09) on his home turf to serve the middle- and high-school youth of China. Together they poured their time, strength and talents into fellowship with the kids and with each other.
"It was seven weeks non-stop of iron sharpening iron," Near said. "We ministered to one another and to young believers who are often the only Christian to walk into a room – it's very different here than in America."
Near arrived in China on June 1, and Teubl joined them four weeks later, where they teamed up with Ly to minister to Shanghai Community Fellowship youth group. There they led activities, hosted sleepovers, planned game and movie nights, prepared sermons and led worship for the youth group. Most of all, they spent time pouring love into the students.
Ly has a special heart for the youth group. Although he was born in the States, his family moved to Shanghai in 2002. Ly was involved the Shanghai Community Fellowship youth group throughout high school. He attended PHC from 2005 - 2009 and then moved back to China after graduation. Between his other responsibilities, Ly looks for opportunities to interact with the students.
"Kenny spends as much time as he can building quality relationships," Near said. "He creates organic opportunities to minister."
Most of the students are children of expatriates; all must hold a foreign passport to attend the church. Summer break had diminished the numbers, but on average there were 20-40 kids a week.
As soon as Teubl arrived, the team took the youth group to Sichuan, a province in Central China. Three years ago, a massive earthquake hit Sichuan, killing an estimated 68,000 people.
"We were told it affected a land-mass the size of Iraq," Teubl said. "I joined Kenny's youth group for a week of doing some of the hardest manual labor of my life. It was fun -- and I developed a new thankfulness for my college degree."
"It was the highlight of the trip," Near said. "It was so valuable to know how to serve using my energy and time in the prime of my life to meet the physical needs of people. The trajectory of my life is significantly different because of that experience…. I want to use my gifts for his glory, not my glory."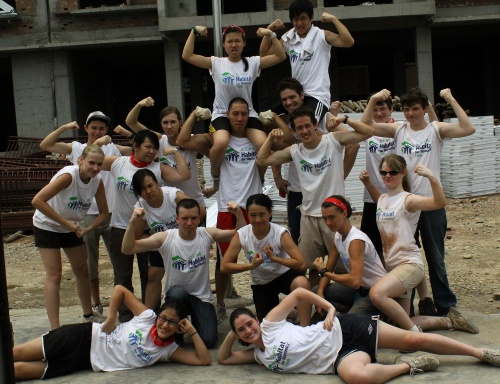 Later, they also took some kids on a service project to Huge Grace orphanage, home to 70 disabled children who, because of China's one-child policy, would otherwise be homeless.
The alumni poured their time and fellowship into each other as well as the students.
"We -- just three people -- experienced community," Near said. "There was lots of debate and discussion due to the connection of PHC grads. Kenny's consistently asking what God wants him to do next. It's great to spend time with someone like that."
"It was a wonderful chance to spend the summer with two godly friends from college," Teubl said. "It was an absolutely spectacular first visit to China."
Near was enthusiastic to learn what it means to, essentially, serve others with one's all, especially when one is young and unencumbered.
"I want to encourage people around me to take these opportunities [to serve]," Near said. "You get back way more than you give."