Alumna Hired as Head Debate Coach at King's College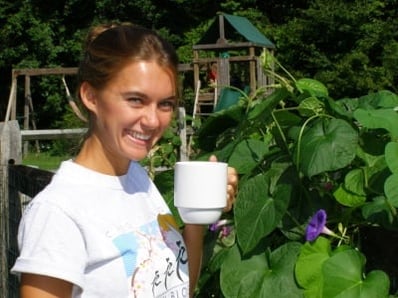 Getting off the metro in New York City, Patrick Henry College alumna Katie Teubl (Government: Political Theory, '07) walks a few blocks to Fifth Avenue—to the Empire State Building. Embedded in the middle of the tallest building in NYC is Teubl's new workplace, The King's College. Teubl recently began her new job as head coach for The King's Debate Society.
Described as "a stand-out candidate" by one of the seniors who founded the Society, Teubl just completed her orientation as an adjunct faculty member and will be teaching her first class in Argumentation & Debate in the spring. Meanwhile, she has begun coaching The King's Debate Society and has jumped full-time into her own graduate school Master's program in Bioethics at New York University.
A familiar figure and well-loved campus leader at PHC, Teubl served as Resident Director for Women from 2007-2008. In her typical fashion, soon after she moved back to northern New York state to live with her family, she founded an NCFCA debate club for several teens in her community. While she taught at a classical Christian school full-time, she also undertook her first grad school class at NYU.
"Commuting from Albany to New York City once a week was pretty intense," Teubl understates.
Nonetheless, Teubl had acclimated herself to a "pretty intense" workload while earning her PHC degree. Students in the Government: Political Theory track complete significant academic research and write a senior thesis that is comparable to a Master's thesis at many graduate schools. So while Teubl's classmates in Advanced Intro to Bioethics at NYU faltered over writing the 20-page paper that comprised most of their grade, she took it in stride. And as a result of the class, she decided to change her interdisciplinary degree to one in bioethics.
"Bioethics covers some of the most important questions of society—questions of human dignity," explains Teubl. "I had been thinking about the field ever since PHC, when I wrote my senior thesis on the topic."
While Teubl learned to think critically at PHC, she also participated in several different debate leagues and applied leadership skills hands-on. In her new job at The King's College, she will be coaching Parliamentary debate, which she says at PHC gave her some of her "most vivid memories." Parli debaters receive their topic only fifteen minutes before a round, a practice that requires them to think flexibly, incorporating a wide body of knowledge.
"NPDA was a very challenging league, very competitive, and it stretched me in my ability to argue worldview and philosophy in a debate round," Teubl states.
Her experience teaching history, political philosophy, geography, and rhetoric at the Academy of Christian Leadership over the last two years will also serve Teubl well as she inches into teaching at the college level. One day, perhaps, she would like to earn a Ph.D. in philosophy, with a focus in bioethics, enabling her to teach full-time in college. Or perhaps, she muses, she could find work in the field of diplomacy.
Meanwhile, she credits her time at PHC with teaching her "not to be afraid of complex thought."
"We read some really intricate stuff in our classes," she notes. "And with our classroom discussions using the Socratic method, I felt well-prepared for grad school."