It means that while our faculty are committed to staying at the forefront of their respective fields, their first obligation is, and always will be, to their students.
What's more, their efforts outside the classroom, such as publishing research or working as consultants in their fields, only enhance student learning.
So, as a PHC student, you'll find yourself surrounded by knowledgeable, mature believers who are not only dedicated to helping you reach your God-given potential as a student; they are equally interested in your growth as a citizen, and as a believer. Such dedication, coupled with our strong emphasis on real-world experience, guarantees that you will graduate with a well-rounded, biblically sound, and eminently practical education.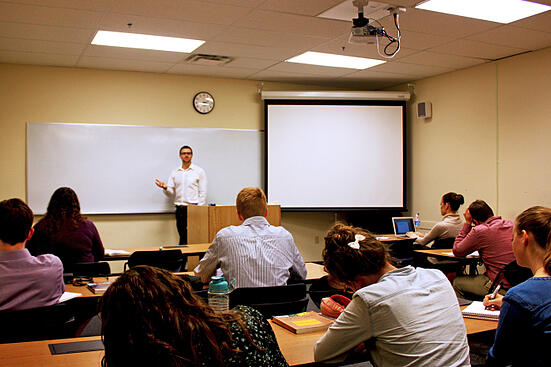 But there's more than the dedication of the faculty that makes a PHC education so distinctive. It's our commitment to a time-honored and effective approach to educating and training leaders, an approach that combines the classical liberal arts with practical, real-world experience.
In your first two years as a PHC student, you'll sharpen your reasoning, writing, and speaking skills by focusing on our core curriculum. You'll study logic, rhetoric, theology, philosophy, history, constitutional law, language, literature, economics, mathematics, science, and more.
Then, whether you choose to major in Government (American Politics and Policy, International Politics and Policy, Political Philosophy, or Political Theory), Strategic Intelligence in National Security, Economics & Business Analytics, Journalism, History, Literature, or Classical Liberal Arts, you'll put that knowledge to work as you undertake practical professional training in your field.
For those interested in the environment, environmental policy, pre-med, or teaching science, take a closer look at PHC's Environmental Science and Stewardship program.
You can also further diversify your education with a variety of minors. You could find yourself tackling real-life problems, working alongside experts in and around our nation's capital, and putting your knowledge to work in congressional offices, intelligence and law enforcement agencies, business startups, think tanks, newspapers, publishing houses, private and home schools — even the White House.
Want to know more? Check out our catalog or email info@phc.edu us today, and we'll be happy to answer whatever questions you might have.