What are the essential characteristics to create such a transformative community? What kind of community can consistently attract young, bright, Christian men and women from across the country year after year? Many argue that a strong community thrives on unity—its members sharing common interests, values, and beliefs. At PHC, we have a unique culture where men and women from various backgrounds and cultures come from across the United States, unified by a common belief in the core tenants of the Christian faith. Each student, staff, and faculty member ascribe to the same Statement of Faith as we seek to build a community of believers who love one another and build each other up, just as "iron sharpens iron".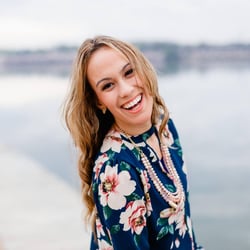 Whether you are interested in starting a business, teaching in a classroom, raising a family, going to law school, entering full-time ministry, running for an elected office, or working in public policy, PHC could be the right place for you. Our Core Curriculum allows students to learn in a variety of fields during their first two years, which creates a firm, shared foundation for more specialized studies in their junior and senior years.
Core classes include: Theology, Music, Philosophy, Logic, Government, History, Literature, Economics, Biology, and Physics. The goal is to develop your ability to think carefully through complex ideas and to express your ideas clearly. Ideas discussed in the classroom are later refined in lively conversations in the cafeteria, or in quiet conversations late at night in the dormitory. This "ongoing" education, inside and outside of the classroom, inspires students to challenge themselves and their peers to better understand a broad range of topics as a part of a Christian educational community where the LORD is pursued, worshiped, and loved.
While we value and continue to improve our educational process, we also value times of Christian fellowship. Three times a week, students and faculty gather for chapel to hear Spirit-led messages and participate in student-led corporate worship. Twice a week, smaller groups of students meet in their dormitory wings for "wing chapel" Bible studies where they exhort, encourage, and pray for one another. All of our students are encouraged to attend and become involved in local churches where they can serve as part of the Body of Christ. It is encouraging to see our parking lots empty on Sunday mornings.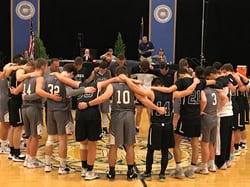 In addition, our community is filled with exciting extra-curricular activities. Whether you love music, theater, sports, hiking, visiting museums, investing, debating, or just hanging out with friends, there is something here for you at Patrick Henry College. Community life is vibrant and filled with opportunities to get involved. We believe this is an important aspect of helping to develop the whole person.
Does this view of community align with yours? If you are interested in learning more, we would love for you to come for a visit. See for yourself. Take a tour of the campus. Attend chapel. Visit a classroom. Meet the students currently attending the College. You will find something truly unique here at Patrick Henry College. We are looking for faithful Christian men and women to join us in bringing glory to God by cultivating hearts and minds centered on Him—all alongside some of the brightest Christian college students in America.
We believe our graduates have a tangible impact on those around them—both now and in the future. As disciples of Christ, they are equipped to serve their families and pursue their unique vocational callings while having an impact for Christ in their communities and beyond.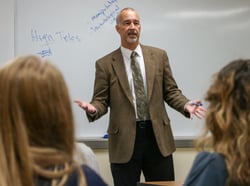 Each day Patrick Henry College embarks on this educational journey with humility, relying on the LORD, His Word, and prayer to do the work we are called to do. Intentionally raising and educating the next generation does not end with high school. We hope you share our desire to train and educate college students at an exceptional level within a Christian community.
PHC graduates are sharp, capable, and well-spoken, but they are also loving, humble, kind, bold, and willing to speak the truth even in times of adversity. They stand apart from the rest of the world because of the hope they have in Christ. Their education and community experiences help form individuals capable of leading for the glory of God and the good of those around them, regardless of cultural pressures.
We hope you will join us on this journey to serve the LORD and fulfill your unique calling here at Patrick Henry College!