Moving Home and Toward the Next Adventure
June 6th, 2013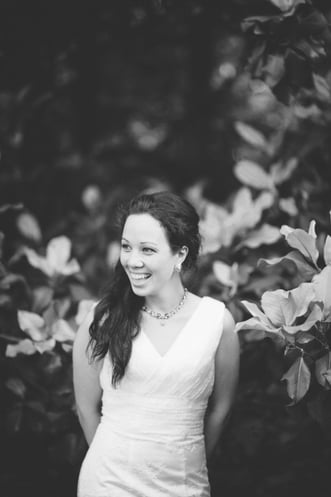 When Tia Stockton was 14, her family moved from Oregon to a small town in China where no one spoke English. As a result, it didn't take Tia long to become proficient in Mandarin. While in China, she gained a unique perspective of America and was able to understand the way her home country appeared to others. She also became involved in an international youth group that played a large role in her spiritual development.
PHC was the only school Tia applied to. She was interested in an education degree, but all of the schools she looked at had programs that were too specific (i.e. teaching second through fourth grade). She wasn't sure which grade level she wanted to teach; instead, she hoped to receive a broad education that would teach her how to learn, so she chose to attend PHC. She realized later that what she was looking for was a classical liberal arts education.
She fell in love with the classes and with the people at PHC. She acted in Eden Troupe productions, played on the soccer team, worked as RA, and served as a teen camp counselor for four summers.
Her senior year on campus Tyler Stockton, a former marine, arrived on campus as a freshman. They both performed in the Crucible, Eden Troupe's play that semester. Tia developed a deep friendship with Tyler, and soon noticed her friends trying to matchmake. Tia would be talking with Tyler and a group of friends, and then suddenly find herself alone with him. Their conversations grew in frequency and depth, until Tyler decided that it wasn't fair to have such a deep relationship with Tia without a commitment.
In the spring of 2010, Tyler asked her to go on a walk with him. They walked 8 miles in 30 degree weather and emerged as a couple. The next summer he proposed to her, and they were married the summer after. Tia worked in PHC's Admissions Office for three years to be near to Tyler as he finished his degree.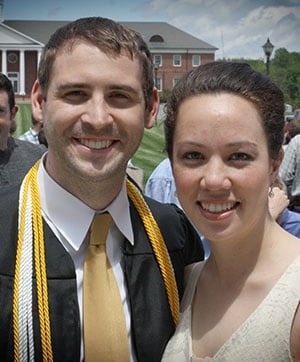 Tyler graduated from PHC in May of '13, receiving the Tim LaHaye Leadership Award for his work at the Heritage Foundation, in the IT Department at PHC, and as an RA. He struggled with the decision to study law on the east coast or head back west. He decided to attend the University of Montana, a tiny law school in Missoula.
"Montana is where I'm from," Tyler said. "It's who I am. It's where I should be. I miss the mountains and the open plains."
Tia has never lived in one place longer than Virginia. Saying goodbye to Virginia means leaving the community she and Tyler built for themselves over the last seven years.
"We know and love all these people," she said. "Starting from scratch is going to be difficult, but it's exciting. I agree with the notion of going back home to invest in the area that raised you. We've gained all these skills at college. We owe it to the community and to the people that raised us to invest back into that place."
Tia believes that a person's homeland offers just as much of a mission field as the jungles of Africa. For her and Tyler, witnessing Christ is about living life together with someone and sharing a sense of community.
While Tyler studies law, Tia is planning to turn her hobbies into a means of income. In high school, she learned how to knit and developed a dislike for it, turning to crocheting instead. However, in 2012, she realized that she preferred the look of knitting over crocheting and began teaching herself to read patterns. By watching YouTube videos of stitches, she taught herself to knit.
While she has enjoyed her years in the Admissions Office, she is ready to spend her time in a job where her creativity can freely flow. She hopes to find a part-time job as a florist or baker, or work at an organic grocer or knit shop.
At PHC, Tia has been well known for her savory food. For a few years, she had a food blog where she posted recipes and pictures of dishes she made. While she publicized the link to friends, she primarily used it as an online cookbook so that her recipes were readily available when she visited family and friends. In the last year, however, she decided to change the blog name and broaden its scope to feature her knitting and suggestions for thoughtful living. Thus Fibre and Spice was created.
"It blossomed out of a desire to return to more natural and whole things – natural fibers, cotton, whole foods," she said. "We are carbon beings, and when we interact with synthetic clothing or medication, it has more of an effect on our bodies than we know."
Her goal is to use her blog as an eventual means of income. She would love it to open doors for her to sell knitted items or patterns, bake goodies for farmer's markets, or arrange flowers. Since creating Fibre and Spice, her blog has tripled in readership. Tia has become more active on Twitter and Pinterest in an effort to grow her audience and has been excited to watch social media attract readers.
She has enjoyed collaborating with other bloggers in Northern Virginia and hopes to establish similar connections in Montana.
"It's been neat to build that community, establish connections, and benefit from each other's services," she said.
Tyler and Tia are spending the summer touring Europe and helping on an organic farm in England. They chose to postpone their honeymoon so that they could take an extended trip to Europe this year. They are excited to explore and get to know some of the local people.