Work with Koch Foundation Illuminates Calling for Alumni
November 14th, 2011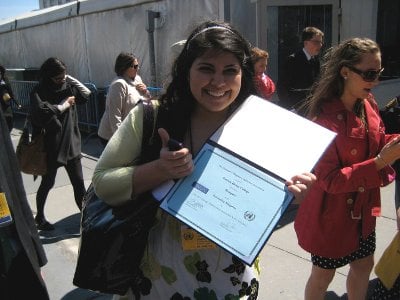 Through development work with the American Council of Trustees and Alumni (ACTA) as part of the Charles Koch Institute's internship program, PHC senior Natasha Malik says that she figured out her "comparative advantage"—what she is good at. This last summer, she drafted letters and worked with donor correspondence, planned a donor event in New Mexico, and more.
"I love development work!" she enthuses.
Malik fit naturally into this elite program. At PHC, she was one of the driving forces behind the growth of PHC's student-run National Model United Nations team and International Justice Mission (IJM) club. She had already experienced the pains and joys of bringing lofty ideals down to earth and working them out in everyday life. With the Koch Institute, she was able to apply non-profit management the same way. She and the other interns spent one day a week at the Koch Institute, studying free-market principles and non-profit leadership. The rest of the week, they applied what they had learned.
One project Malik enjoyed in particular was collaborating with other Koch interns to develop a proposal for a day-long teambuilding activity. The Koch Institute, she says, typically contracts out this activity each year. The 2011 interns did not find the experience with the outside company satisfying, so they decided to lay out their own curriculum that interns could use later on.
"Koch emphasizes principles of entrepreneurship," explains Malik. "We hope our proposal proves useful for future years."
Although Malik's main passion is for international justice and organizations like IJM, she was excited to serve at ACTA. The latter engages trustees and alumni from over 700 colleges to use their power of advocacy to encourage their schools to teach core curricula that builds solid citizens who can participate in a free democracy. ACTA also researches how to reduce administrative costs—and, therefore, tuition—and seeks to reform accreditation procedures. Further, at ACTA, Malik worked directly under Brianna Estrada, PHC alumna (Literature, '10) and a graduate of the Koch Associate Program.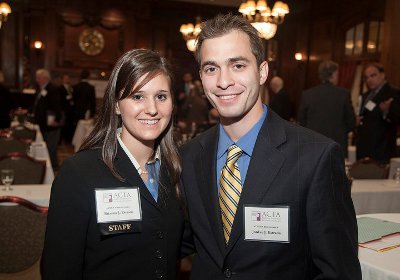 "In my mind, ACTA's mission is very similar to PHC's," notes Estrada. "If we want a free society, we must have an educated citizenry—and a core curriculum is a critical part of that equation."
The Koch Associate program teaches the same "Market Based Management" principles a Koch intern receives, but it employs Associates with a full-time salary. Estrada's year with the Koch Institute ended in May, and she continued on as a Program Officer at ACTA. Recently, she received a promotion to Director of Development.
"PHC gave me an appreciation of the liberal arts, which is critical to ACTA's mission. I don't think I understood what the liberal arts meant before coming to Patrick Henry," Estrada says.
A top public speaker while at PHC and an excellent writer, Estrada enjoys how development work uses both those skills. She is able daily, she says, to "advocate for causes I care about." As a Koch Associate, she also learned management skills to motivate and communicate with a small team, setting its vision to fit into an overarching organizational purpose. She says that she "sees herself staying in the development field."
Malik and Estrada encourage other PHC students and alumni to apply to Koch Institute programs and to come to them for advice on how to do so. In Malik's work with ACTA in particular, she enjoyed lunch lectures with presidents of colleges and renowned economists. She was able to visit the White House and go on a dome tour of the Capitol. Once, she met Justice Alito of the Supreme Court.
"I really think that PHC students can excel in this program," she says. "I would love for more of them to have the opportunities I have had."