Accepts Trinity Forum Fellowship
July 12th, 2011
For the past two years, PHC alumna Meredith Schultz (Government: Political Theory, '09) has served as a multi-faceted, highly-valued executive assistant to the College's president and provost, Drs. Graham Walker and Gene Edward Veith. Her talent for creating beautiful events and extending hospitality has allowed her to bless the campus community in many ways, with several coffeehouse lectures and enhancing gatherings and receptions that occur on a weekly basis. Both this summer and last, Schultz managed and taught the summer Leadership & Vocation teen camp at Patrick Henry College. Through it all, she says she has clarified her life's calling to the art of "bringing theory into practice," a discipline known as "praxis."
Having returned home to Minnesota for a few months, Schultz is now preparing for an upcoming year-long fellowship with the Trinity Forum, a non-profit organization "contributing to the transformation and renewal of society through the transformation and renewal of leaders." For Schultz, it fits perfectly.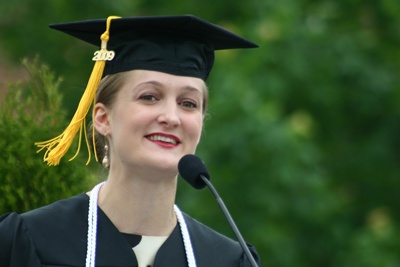 Looking back at the last two years, Schultz says she has seen God's hand orchestrating her path. Right after graduation in 2009, Schultz had packed up all her belongings and set her course for Guatemala, to assist her father, a doctor, on the mission field. Those plans fell through, however, and Schultz applied for a job opening at PHC instead. Confused as to where life was leading, she set out to perform her duties faithfully.
"Two years ago, I would have written a completely different application essay for Trinity," Schultz marvels. "It took working for Dr. Veith and Dr. Walker to adjust my vision."
She says that PHC's provost and president graciously gave her leeway to develop skills on the job. As a student, Schultz had already helped make campus events beautiful and enjoyable, and she had organized weddings for several friends. She used those same talents to arrange coffeehouse lectures in the Barbara Hodel Student Life Center.
"Dr. Veith would tell me he wanted a certain speaker—to 'treat him well.' And I would make the contact, arrange details, ensure he felt at home," she outlines.
Of Schultz's many qualities and contributions to the College, President Walker observed: "Meredith is a superb writer, and incredibly good with logistics. Above and beyond that, though, it is her innate courtesy and good judgment about people that made her an extraordinarily valuable member of the team. I appreciated having a fellow political theorist close at hand! It was a breath of fresh air to occasionally talk about Edmund Burke's "little platoons," or the foibles of virtual localism. She even provided a guest lecture in my Christian Political Theory class. It was a privilege to work with her in every way."
While Schultz always knew that she was working at PHC as a temporary stop, she didn't know what came next. So she took the advice of Dr. Michael Kucks, the College's Assistant Professor of Physics, and "cast her bread on the waters," applying to all relevant opportunities that came to mind.
She didn't know that Trinity Forum existed, however, until spring of 2010, when she attended a conference in D.C. on James Davison Hunter's To Change the World. On a table, she found a flyer for the Trinity Forum Academy. The Academy accepts twelve fellows a year for a nine-month residential graduate program to develop their understanding of their lives as governed by a Christian calling. A mentor works with them as they read deeply, build a picture of what God has done in their lives already, and write a thesis.
Schultz stepped back and thought. By the end of the summer, after she had finished conducting her first Leadership & Vocation teen camp at PHC, she started to fill out the application. It took her four months, a distilling and focusing process in which she "cut much."
"Political theory is very concerned with precise terms," she explains.
In her final statement of purpose on the application, Schultz writes that "I love to come alongside visions and theories and create a context for them to best instruct, delight, and move the audience. . . . Even the best idea needs to be supported, cultivated, and maintained."
Of her years as a student at PHC, Schultz concludes that "PHC is a crucible. It breaks you down to your foundational principles and builds you up again." Following a favorite theme of Provost Veith, she adds that "We don't have a single calling—one golden thread we have to follow. We have many callings in life."