Patrick Henry Alumnus Honored at Michigan Capitol
October 12th, 2011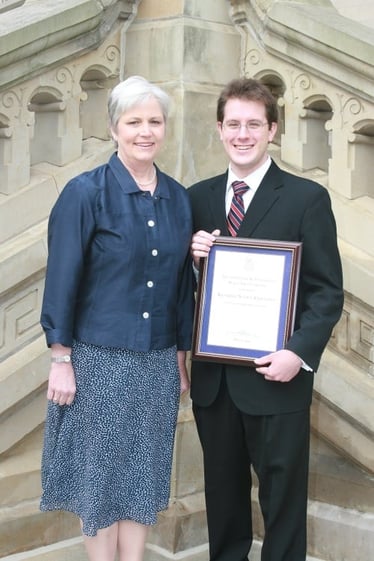 Michigan lawmakers have honored Kendell Asbenson with the 2011 Frank M. Fitzgerald Public Service Award, given annually to outstanding young volunteers in the legislative, executive and judicial branches of government.
Asbenson is a 2007 graduate of Patrick Henry College, where he received a bachelor of arts in government.
Fitzgerald scholars are singled out for their excellence in academics, communication and volunteerism. The award is named after a former speaker pro tempore of the Michigan House. Fitzgerald's widow, Ruth Fitzgerald, presented the award to Asbenson during a ceremony at the Michigan Capitol.
"I am honored to receive the Frank M. Fitzgerald Public Service Award," Asbenson said. "I have been truly blessed to have served in these ways. The positions that I have held in the legislative, executive, and judicial branches provide me with a unique perspective on government, as well as excellent experience."

The 25-year-old recently finished his second year at the Michigan State University College of Law, where is a senior managing editor of the Michigan State Law Review and president of the Federalist Society. He also received the Jurisprudence Achievement Award in Research, Writing and Advocacy.

Asbenson externed for Judge David McKeague of the U.S. Court of Appeals Sixth Circuit, and he also completed externships with the solicitor general of Michigan and with the Michigan Judicial Institute.

A California native, Asbenson worked as a staff assistant at the White House in 2008 after serving as an intern in Washington D.C. at the Council on Environmental Quality. Asbenson also interned with the California State Senate and with Michigan Family Forum, a nonprofit organization in Lansing. He is a member of Curriculum Beyond the Classroom, an innovative group formed to connect students with professionals.
Asbenson and his wife Emily (nee Holmes), also a PHC graduate, live in East Lansing, Michigan. Read their alumni profile here.