Hard at Work in History and Law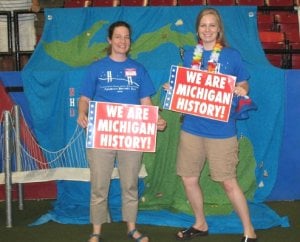 A little over eight months after Emily Asbenson (History, '08) moved away from the Washington, D.C. suburbs with her husband, Kendell Asbenson (Government, '07), she led a crowd of over 50 Michigan 7th to 12th graders and chaperones through the Capitol's familiar monuments and Smithsonian museums. As Publication and Programming Assistant for the Historical Society of Michigan, one of her duties included serving as Assistant National History Day Coordinator for the entire state of Michigan. As it happened, the job required this Michigan native to learn much more about her home state than she had ever imagined while helping provide thousands of students an opportunity to excel.
"Who says, 'Oh, I want to be a National History Day coordinator?'" she asks. "This experience has clarified to me that God knows how He wants to use all our talents—sometimes in unexpected ways."
Emily and Kendell moved to Michigan in August of 2009 so that Kendell could attend the Michigan State University's College of Law. After a time of searching, Emily found a position at the Historical Society of Michigan—a non-profit NGO founded in 1828 that had experienced a sudden growth in responsibilities when Michigan's governor abolished the state's Department of History, Arts, and Libraries.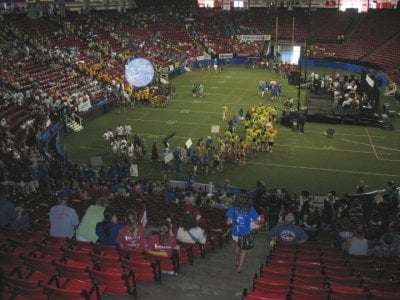 "When our governor closed the Department for budgetary reasons, it caused our state archives to be shipped elsewhere and state museums to face restructuring," Asbenson explained. "[The Historical Society] has no museum or archive of its own, but it serves as a support organization for historical societies and museums around the state. Because of careful management and cautious planning over the last decade, HSM is experiencing unprecedented growth and success while the state is failing."
The Society had already taken over the Centennial Farm award program in 2008 and was now gaining the state's popular Michigan History Magazine, a welcome addition to the Society's existing publications. As its responsibilities increased, the HSM found a need for more employees.
HSM originally hired Asbenson part-time as an Associate Editor to "compile massive amounts of data" for its Historic Michigan Travel Guide, which collects information on museums and historical sites throughout the state. She calls this editorial and publishing work the "most challenging part" of her job, since she has to pay close attention to repetitive detail over a long period of time.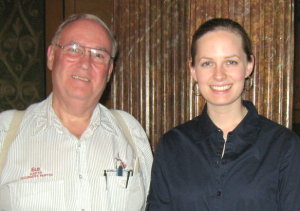 "It's only the second time we've published this guide since the 1970s," Asbenson explains, "so I'm now inventing many of the systems and procedures for updating it as we go along."
It pleases her to note how she has "learned so much about Michigan's historical sites that I never knew, even though I grew up here. This is a great advantage in becoming familiar with the state's history." With the guide nearing completion, HSM has offered her a full-time position as their Publications and Program Coordinator, responsible for planning, communications, and logistics tied to many of the Society's core programs.
Her husband, Kendell Asbenson, has likewise thrived at law school, placing as a finalist in a brief-writing contest for first-year law students at Michigan State University. He achieved excellent grades his most recent semester, and just finished an externship at the Michigan Supreme Court, a job he prepped for as a senior at PHC through an internship with the White House Council on Environmental Quality in the fall of 2007. After graduation, he worked for a year as a staff assistant in the White House.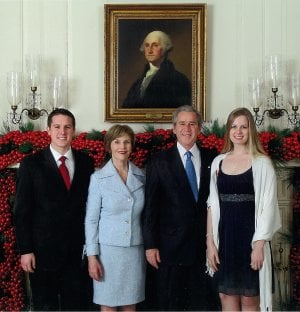 As an employee in the office of White House Management, which handles daily logistics, Kendell had freedom to give friends and former classmates special tours of the West Wing, which members of the general public can only view when accompanied by a House staffer. Among other duties, he maintained the small, private Truman Bowling Alley and stewarded over the special memorabilia given to Oval Office visitors or American diplomats overseas. On the Bush administration's last day, it was Kendell's team that remained to pack boxes, check out staffers, and ensure that the Eisenhower Executive Office Building was clean and ready for the arrival of the newly-inaugurated president and his staff.
That unique opportunity came about, Emily recalls, because of his hard work as an intern. Faced, for instance, with a Freedom of Information Act request, which Emily describes as "a mind-numbing information request, a thankless and horrible job," Kendell spent hours slogging through hard-copy records and pulling data "without complaining." That attitude earned him a sterling recommendation from his internship supervisor, and once the internship was complete, he gave his resume to the White House personnel office. He received a call at home in California, interviewed over the phone, and quickly moved back to Virginia.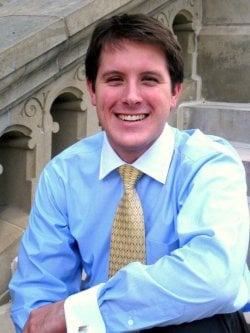 This same tenacious diligence has continued to benefit Kendell at law school. In addition to two Jurisprudence awards for his legal writing, Ken was recently honored with an invitation to join the Michigan State University Law Review.
Together, the Asbensons look forward to their united future, which seems destined to be marked by hard work and exciting opportunities. Patrick Henry College, says Emily, enabled her to do more than she ever thought possible.
"No matter what the specific degree on my diploma says, my PHC education was much more than 'history.' It was an overall, intense education with a focus on history," she explains. "I can do publishing, event planning, and conferences—because we emphasized leadership qualities overall.
"You need to prepare yourself for whatever God is going to do with you and keep yourself open," she concludes. "As Ken says, don't disqualify yourself ahead of time by saying you can't do something."