Students and Alumni Advance in Entrepreneurship
March 8th, 2012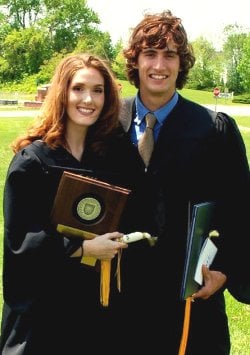 Aaron Olmstead graduated from Patrick Henry College in 2008 with a degree in journalism. Four years and a National Geographic internship later, you won't find him working in an office. Instead, he's operating Estate Lawn Services, a landscaping business he started in 2005 with his brother.
Olmstead started the business when his college savings ran out. Over Christmas break, 2005, he and his brother purchased the necessary equipment. Since then, the business has grown from two brothers to two crews. His wife, Jennifer Olmstead (Journalism, '08), also maintains her own graphics design business, Deleted Space Creative.
Along the way, Olmstead learned the value of hard work and the benefit of owning your own business. "Achieving something for yourself feels really good," he said.
"In our case, it worked out beautifully," adds Jennifer Olmstead, whose Deleted Space Creative business conducts all aspects of client brand consultation and graphics design for businesses, including website, logo, and business card design. "We have freedom that allowed us, last fall, to take a trip to Europe during what would have been a busy work time. I can work from anywhere, and Aaron's business is self-sustaining. A lot of young people have the idea that the only way to be successful is to access just the right job out of college, without considering the skill set God has given them to generate income in a way that benefits their family."
Like the Olmsteads, several PHC students have benefitted from entrepreneurship, something Aaron Olmstead recommends.
"The foundational thing you'll learn in today's society is that a lot of people think getting a job is the only way to earn money," Caleb Lowery said. "The way to make money is to take initiative. Find someone with a need and meet it."
Lowery's own entrepreneurial endeavors include graphic design, technology repair, lawyer referral, and landscaping.
He started his landscaping business, Lowery Labor, last summer after Grounds Superintendent John Terryberry connected Lowery with a landscaping job in the area. In three hours, he made $700. "That was when I realized it was time for entrepreneurship."
Operating your own business eliminates the middle man role that an employer plays in delegating jobs, Lowery said. An employer, Lowery discovered, receives a higher pay grade because he finds the work for his employees. "Once you realize that you have skills that other people are willing to pay for, rather than look for someone who gives me work, I can find that work myself," Lowery said.
Managing entrepreneurial endeavors and college is sometimes difficult to maintain. While a student, Olmstead frequently attended classes in his work clothes (with professor understanding). Lowery stopped landscaping when he began working for a law firm in Leesburg last October.
Katelynn Dunlap operated her own social media networking business before her course load at PHC forced her to scale back her responsibilities.
Beginning during the 2008 elections, Dunlap consulted different campaigns in Delaware on their social media networking. Eventually, she turned it into a business.
Through word of mouth recommendations, Dunlap began directing the social media for two organizations and operating as a media consultant for two others. Currently, she works as a freelance consultant for two of those organizations.
Managing her business and school proved challenging for Dunlap. "I had to learn when it came to my business, I had to sit down and work," she said. "When it's time to work, I work. I'm in the zone."
Dunlap also learned how to communicate on a "professional to a professional level." Katie Tipton learned the same skill through her business last summer as an independent distributor for the jewelry company Premier Designs.
She visited the homes of clients who hosted her jewelry shows. Because she worked with people she had never met before, Tipton marketed herself as well as her product. "I'm not good at putting myself forward," she said.
If people complimented her on jewelry she wore, she learned to thank them, then hand them her business card. "It will pay well when I try to find a job," she said.
Bethany Barcz, who operates her own cosmetology business, has developed the same skill. "I learned that I need to be way more exciting about what I can do," she said.
Barcz earned her cosmetology license in Pennsylvania during high school. "My mom told me, 'I want you to have a plan to fall back on,'" Barcz said. Barcz has always been artistic and thought cosmetology looked fun, so she decided to pursue her license.
Three years later, Barcz passed her cosmetology exams thanks to her hard work and instruction from a local vocational school.
When she brought her skills with her to PHC in the fall of her freshman year, "I made more money cutting hair than I did [working] in the dining hall," Barcz said.
Aimee Stauf's mother also encouraged her to pursue a job on the side. At age 12, Stauf began making her own jewelry as well as repairing broken jewelry. "I look around and see earrings or a necklace and think 'Ah! I can make that, and I can make it better,'" Stauf said.
During her senior year in high school, she sold jewelry through Etsy.com. Stauf said "I learned that it takes a lot of work." Treating a business like a hobby is not enough to be successful, she added.
Though it may not be the easy option, Olmstead said, "I definitely recommend students pursue entrepreneurship."
Lowery said, "Identify your limits, identify your abilities, then challenge them."