Finds Career in Typography and Entrepreneurship
March 14th, 2013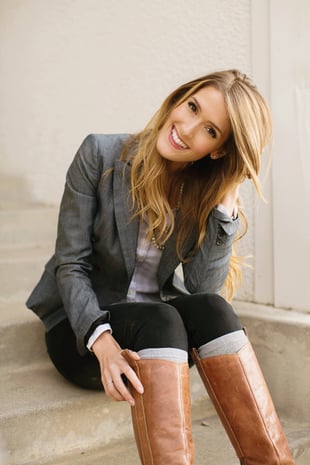 Over dinner each night, Jennifer Olmstead's (Journalism, '08) family gathered around their table on a 180-acre ostrich farm in central Texas and told stories. Her dad loved to have each member of their family retell their day's events in an interesting way. Sometimes he would foster a healthy competition between Olmstead and her younger brother Jonathan by challenging them to see who could tell the most compelling story. Although she was just a young girl at the time, Olmstead developed a deep appreciation for telling a good story.
Olmstead now tells stories every day. As a graphic design artist, she treats each website she creates as a story-telling experience.
"Every website is a story to communicate," she said. "Something can be beautiful, but if it doesn't have the power of a good story, then it's not compelling."
In high school, Olmstead was convinced that she would not attend Patrick Henry College. She dreamed of going to a large school that would allegedly legitimize her education. Then she attended a banquet where PHC's Chancellor Dr. Michael Farris spoke about the vision of his school. He said the mission of the college was to develop servant leaders to work in the culture and make changes. He also spoke about the importance of developing your gifts in the best way possible, which convicted Olmstead about her previous views on PHC. She realized that using her gifts to personally succeed was selfish. The more she learned about PHC, the more it piqued her interest. She was also tantalized by the extensive internship program, which allowed for real-world experience while still in college. Soon after, Olmstead enrolled at PHC.
She majored in journalism, but soon found that even more than the story, she loved the letters that told it. She was editor of the school paper for a semester and her first decision was to redesign the layout and decide on new fonts to use. With the new design, she was excited to see that the paper was being read more frequently.
"Redesigning the paper taught me about the hold a good design has over information," she said. "The design makes it powerful. If the design is terrible, no one cares about the information, even if the information is good."
While at PHC, Olmstead began to develop an entrepreneurial spirit. She dreamed of doing something different than what was being done.
"PHC, a school that is kind of an outsider that's made good, really built a desire for entrepreneurship in me," she said. "I was surrounded by friends who all had big dreams and ideas that weren't necessarily the cultural norm."
To complete her internship credits, Olmstead, along with then-future husband Aaron Olmstead, launched an online magazine targeted to college students. With contributors from all over the world, the magazine contained a casual and personable tone, and received over a million hits in less than two weeks. As a result of this endeavor, Olmstead won the journalism award at her graduation.
Upon graduating, Olmstead taught piano lessons and also custom-designed websites through her company Deleted Space Creative. By the spring of 2012 her business had grown to allow her to design full-time.
She realized that the journalism skills she learned while at PHC have helped enable her design career.
"It's still about asking the questions," she said. "Who is the client? Who is their audience? Except instead of translating the questions literally, I translate them visually. Everything I learned at PHC I use on a daily basis."
Olmstead's latest project is a summation of her design experience: the Tonic Site Shop. She and designer Jeffrey Shipley, who coincidentally also majored in journalism at a tiny liberal arts school, wanted to provide a service to small businesses. The result is a pre-designed collection of chic and professional sites.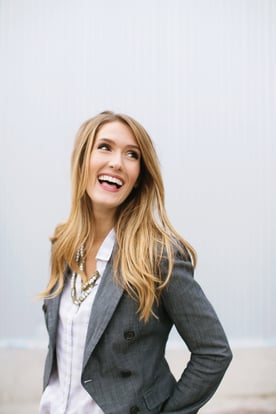 "There's a sickness in the creative world," the Tonic website reads. "It's insidious, easily diagnosed, and often referred to in hushed conversations between neon and chambray-clad tastemakers as 'Boring Template Website Syndrome.' Fortunately, at TONIC SITE SHOP we're here to help, and we've found the cure: entirely unique, completely customizable websites handcrafted for the modern, stylish creative. No listless, visually-deficient template symptoms in sight."
Although Tonic was just launched a few weeks ago, there have been sales all over the world. Olmstead and Shipley have done all their own marketing, as well as designing the sites and collaborating with photographers. They believe every business needs a well-designed website. Tonic allows for the purchase of pre-designed sites, while giving the buyer the option to change the layout or start from scratch.
Olmstead is delighted that the average time spent on Tonic's website by viewers is 8 minutes, approximately 15 times longer than the average for most websites, which is 33 seconds.
Olmstead plans to continue with her custom-design clientele, and hopes to beginning to speak at a variety of design conferences.
Her husband Aaron is also an entrepreneur in landscaping.