Student Films Showcased at Second Annual PHC Film Festival
December 13th, 2010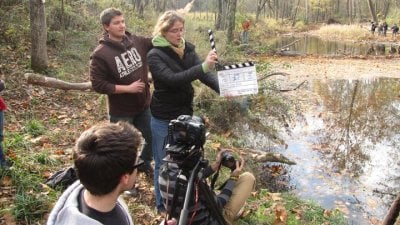 Every second fall at Patrick Henry College, students are privileged to take advantage of a special Film class under the tutelage of Dr. Gene Edward Veith, PHC's Provost and former Culture Editor for WORLD Magazine. Through his many books and articles on culture and media, Dr. Veith brings a unique and distinctly Christian worldview to the topic of the cinematic arts.
Students begin with a historical overview and select film screenings, after which class members may choose one of three options for a final project -- including writing a typical academic paper or, alternately, creating a film. This year, most of the students chose to produce an actual film.
The choice was obvious for Ian Reid, a PHC junior. Reid has interned with Advent Film Group, which produced the movie Come What May at PHC in summer of 2007, and has served as a production assistant elsewhere. He took the project as an opportunity to move beyond his own personal abilities and to incorporate an entire team. Along with other Film class students Mike Ciandella, Bridget Degnan, Sarah McCartney, Elizabeth Dalla Betta, and Zachary Renne, Reid stepped out to write and direct The Struggle, a story about a Civil War soldier displaced in time into modern Washington, D.C.
"I love historical films, and I love time travel movies," Reid told the Herald. "["The Struggle"] is not [solely] a period film, or a science-fiction piece.
"I think at first [my crew was] like, how are we going to do this?" he noted.
Dalla Betta, who worked as the casting director, assembled a cast of both students and local actors from the community through casting calls. Betta simultaneously served as co-director for Eden Troupe's fall semester play, The Christmas Carol, another huge time commitment.
"I felt like a little kid stepping out into a big adult world," she said, marveling how the actors in these productions responded to her emails with "Dear Casting Director," or "Ma'am."
"At least we were getting credit for the project," said Wesley Grose, another PHC student who worked on the film. "But these guys (local actors) weren't really getting anything out of the deal. They were all excited to be there and gave an amazing performance."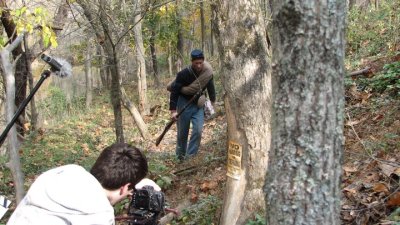 The students spent two months preparing for the five-day film shoot during Fall Break. To film in one small section of D.C., they had to request three separate permits. For other scenes, they obtained permission to dash through sleepy Purcellville neighborhoods with a fake gun, faced unexpected closures and accidents, and figured out how to overcome delays in the tightly-scheduled shoot.
"The biggest highlight was when we were filming in D.C. and I almost got arrested," Reid said. At one point, when Reid and his crew had a tripod set up in front of the Library of Congress to film their displaced soldier slowly descending the steps in full uniform, D.C. police questioned Reid and informed him that he lacked a proper permit to film. The students discovered a loophole in the regulations, however, that allowed them to put away the tripod and continue filming by hand.
"God was definitely watching over us," said Joshua Pidek, another extra-Film class volunteer from PHC.
In the final product, the fictional Civil War soldier, "Pierce," cuts a startling figure against the backdrop of D.C. One particularly poignant scene features him taking in the scope of the Vietnam War memorial. Reid told Leesburg Today, quoting the movie's last line, that Pierce goes from being "disillusioned and feeling there is nothing worth living for to the realization some things 'are worth living and dying for and some things are worth the struggle.'"
Reid and the others submitted a 15-minute version of the film for an informal film festival this past week during class, attracting enough audience members to fill Nash Auditorium. Reid hopes to enter an extended, 20- 30-minute cut in the Sundance Film Festival, the Los Angeles Film Festival, and the San Antonio Independent Christian Film Festival.
Another filmmaker, PHC alumnus Matthew Exline served as a guest director in the class's film festival. His 55-minute original documentary, Leesburg: An Exploration Through Time, tells the history of Leesburg over the past 250 years.
Exline created the documentary at the request of the Thomas Balch Library in Leesburg, where he interned as a student. He worked with employees of the library, including Beth Schuster, who contributed her expertise on still photographs, and Stephanie Adams Hunter, who did most of the general research.
"It turned out to be a pretty tall order," Exline said. "How do you summarize 250 years of history in a way that's interesting to the man on the street and isn't going to cause his eyes to glaze over?"
The documentary premiered at a public screening at the Thomas Balch Library on October 3.
Exline hopes his documentary encourages others to care about local history. "We get locked into our time-box. I would like people to be able to understand how things were different, what things were like. People had to work to make it as it is now."
In May, Exline and the other members of the production team plan to speak at the Mid-Atlantic Regional Archives Conference (MARAC) about the making of the documentary. Exline would like the documentary to eventually be released on DVD, "but that's up to the town of Leesburg." For now, the documentary will fulfill its original purpose of training town employees.
Last year's PHC film festival screened Exline's documentary of the W&OD railway, which he created for Veith's film class.
One other team wrote and shot a film for Dr. Veith's class -- a creative script written by a PHC student -- but they encountered last-minute technical difficulties and will have to screen their project at a later date.
Telling Beautiful Stories & Making Movies That Change Lives
July 17th, 2013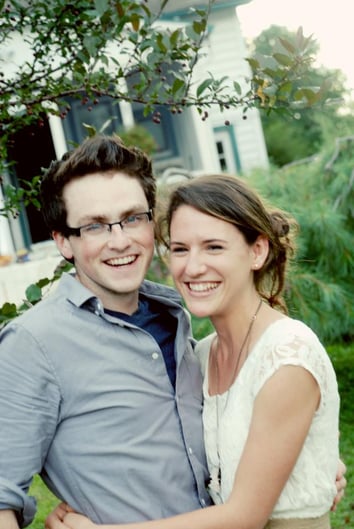 When Ian Reid (Journalism, '12) was ten years old, he watched a LEGO movie some of his friends made. He had previously enjoyed watching movies, but never had stopped to think about where they came from or how they were made. But as he watched his friends' LEGO movie, he was amazed as the LEGO men walked around, talked, and moved. He wanted to make one too. Soon, his LEGO movies grew more and more elaborate, until he and his friends decided they were tired of making LEGO movies and wanted to try their hand at live action movies.
Their live action movies were a mixture of Mission Impossible, Indiana Jones, and Jackie Chan type adventures. One of them was a spoof on National Geographic movies, where an aboriginal was searching through the Australian Outback (Reid's backyard) in search of the mystical pizza tree. By the time Reid was 14, his friends were tired of making movies and had moved on to other pursuits, but Reid still couldn't get enough of them.
In high school, Reid realized that while making movies was fun, they possessed a deeper value than just entertainment.
"The amount of time people spend gorging on entertainment shapes the way they think about the world around them," he said. Once he realized that, "That's when my thought-process transitioned from 'movie-making is fun' to 'movie making has the potential to change people's lives.'"
Reid began looking for film schools to attend and settled on BIOLA University, a Christian school with a solid film department. Through a chance encounter he met George Escobar, who was promoting his new film Come What May. When Reid informed him that he wanted to attend BIOLA, Escobar asked him to consider where their graduates are ending up and what they are doing to break into the industry. Escobar, who graduated from the American Film Institute, believed that film school was a waste of time. He said it taught students how to use the equipment, but didn't teach them how to tell stories. If he could do it all over again, he would have attended a liberal arts school to learn about what comprises good story-telling. He encouraged Reid to learn which stories are timeless and true and which ones are fleeting and unimportant. Reid considered this information for about three hours, and was convinced that he didn't want to attend film school.
"I wanted to learn how to tell stories that would bring people to a deeper understanding of the true and the beautiful and would lead people to a deeper understanding of Christ and eternity," he said. "I didn't know of a better liberal arts school than PHC, where I could study from professors who are brilliant and glean from them how to tell beautiful stories."
At PHC, Reid studied subjects like constitutional law and physics. Yet as he studied the sciences and history, he learned to find the beauty in what he was learning. And through these experiences, Reid learned how to tell beautiful stories.
"The professors pushed us to question why the author said or did what they did," he said. "They caused us to think about the underlying worldviews and truths behind everything we studied and learned. They didn't just have us practicing writing; they had us understand why we were doing what we were doing and how we were joining in the great tradition of education and thinking. It gave us a framework for understanding truth and beauty relating to a shared human experience that's been passed down through the millennia."
As part of his internship requirements, Reid worked with George Escobar's Advent Film Group and assisted Dr. Michael Farris with the creation of a Constitutional Literacy video series. He also filmed an apologetics video training series with a PHC alumnus, and created a feature film about a 1940s Screenwriter.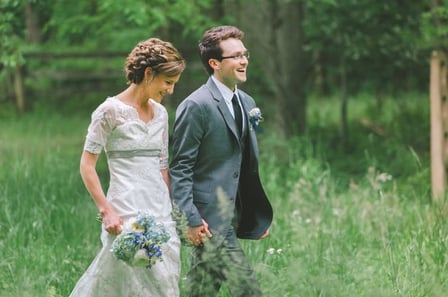 Reid currently works as the director of film and visual media at the Home School Legal Defense Association (HSLDA). He also works with Heritage Action for America and the Intercollegiate Studies Institute by producing video branding and mini documentaries on the work they are doing. He recently completed four music videos for a concert pianist and is beginning a documentary about a master horseman living in Virginia.
Reid was asked to film a documentary on Mt. Everest called Shadow of Everest. According to Reid, the goal was to capture the history and beliefs of the people who live at the base of the mountain and compare it to the ideology of those who try to conquer the mountain. In preparation for this task, Reid and his crew spent three days climbing Mt. Ranier. They did training exercises, jumped across glaciers, and experienced 72 mile-per-hour winds. When Reid arrived back in Virginia after the trip, he immediately went to emergency room because he was having trouble breathing. The lining of his lungs was inflamed from the high altitude and heavy exertion. After consulting with his family, he decided to back out of his Mt. Everest commitment to film the documentary to preserve his health and safety.
In addition to filmmaking, Reid also dreams of composing music for video games and TV shows. He had been unable to afford the necessary equipment for composing, but because of connections through some of his film projects he managed to acquire the needed materials. He picked out a partner who shared a similar passion and together they are beginning to launch Luminosity Scoring.
While Reid's entrepreneurial pursuits have opened many doors, they have also led to some dead ends. In spite of this, Reid has chosen to continue starting businesses and projects that he is passionate about.
"It allows you to do what you love, rather than do what someone else loves," he said. "Not everything succeeds, but there is something thrilling about taking a risk on something that you think is really exciting. If it succeeds, you are able to watch it succeed for you and your partners, rather than watch it succeed for someone else."
Reid recently married his dream girl, Yetta, an entrepreneur, photographer, and director of marketing for Middleburg Real Estate. She inspires Reid to work even harder by being faithful to the tasks set before her. Together, they are working towards Reid's dream of sitting next to each other in the audience at the Oscars and hearing Reid's film announced for winning best picture.