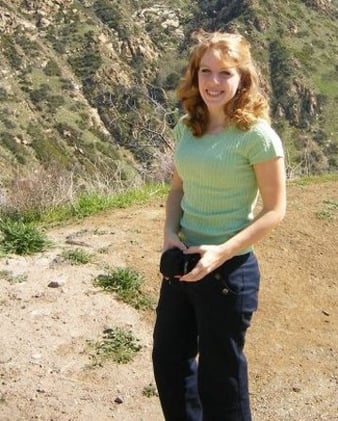 Holly Vradenburgh ('08) is a Tennessean who loves to watch college football. But her life's mission is to help provide orphaned children across the seas a hope and a future. To this end, she is about to embark on a path traveled by many of her fellow PHC grads, leading to one of the nation's top law schools. After serving this past year as Patrick Henry College's female Resident Director, Vradenburgh is scheduled to attend the University of Virginia School of Law in the fall, in its International Law and Human Rights track.
"When I started college I wanted to work for an international adoption agency," says Vradenburgh. "I dabbled in moot court at PHC and took some history and government classes, and I felt God moving me to study international law in general."
In the process, she explains, her "vision expanded." Rather than working for an adoption agency in person, she explains, her vision includes learning how to create efficient infrastructures to allow such agencies to operate effectively.
"Lots of countries need adoptions, but their governments can't facilitate it," she says. "Organizations like International Justice Mission work to change that."
Vradenburgh chose to take a "rest" year as RD after finishing her History major at PHC in only three and a half years. Not surprisingly, for those familiar with her industrious love of service, while she indeed took life a little easier in her first semester on the job, by the spring she was also teaching SAT prep to students and working as an administrative assistant for PHC's summer teen camps.
"It's been a good year," she grins, "—with a minimal number of emergency runs."
The chance to spend another year working amongst her former classmates was enjoyable, she adds, as was learning how to cultivate new relationships while functioning in a position of authority as RD. A genuine highlight, she says, was the almost daily, practical application of "meeting people where they are and discerning what is going on below the surface, at the heart level."
Vradenburgh says she looks forward to the upcoming challenges at UVA, and anticipates with an even greater urgency the eventual fulfillment of her vision.
"The important part," she says, "is the adoption, not the international aspect."
And with a quiet passion, she shares the heart and the motive energizing her dreams of service: "God has always been identified as the defender of the fatherless and the widow."
Alumna Holly Vradenburgh Wins Moot Court Competition
November 15th 2010
A pair of students from the Virginia Law School's Extramural Moot Court team won a prestigious competition at American University on Oct. 23.
Third-year student Brendan Connors and Holly Vradenburgh, a second-year student, won the 17th Annual Burton D. Wechsler First Amendment Moot Court Competition, which was decided by federal circuit court judges.
Vradenburgh graduated Patrick Henry College in 2008 with a degree in History. In 2009 she served as the Resident Director for women. She now attends the University of Virginia School of Law, with an emphasis on International Law and Human Rights.
"The moot court team is extremely proud of Brendan and Holly for besting 25 other teams in an extremely competitive tournament," said Tore DeBella, chair of UVA Law's Extramural Moot Court team. "I know they put quite a bit of work into preparation. It certainly paid off, and it's a great way for the team to kick off the season."
The teams argued a hypothetical case involving a local high school-sponsored event designed to promote sexual education. In the case, one of the invited speakers, a local community college student and an alumna of the high school, brought brochures promoting awareness of contraception. The school principal deemed the brochure material inappropriate and felt that it promoted sexual activity. As a result, the young woman was excluded from the event.
Contestants were asked to argue whether the exclusion was legal, based on Hazelwood School District v. Kuhlmeier, a Supreme Court case that set a precedent in which school-sponsored speech does not receive the same level of First Amendment protection as other speech.
Teams had to argue both sides of the issue. When arguing against the precedent, "the center point was not to assume that this was school-sponsored speech," Connors said. "An adult who was openly invited along with other adults to come speak at an assembly has different rights than a student might within a classroom or for a newspaper."
After two grueling days of competition, Connors characterized the final round as a "hot bench."
"It was a matter of not even letting someone finish a sentence, just kind of hitting them from side to side," Connors said. "It was going to be a war of attrition to see who could hold up."
The pressure benefits the competitors, who will need the ability to think on their feet, Vradenburgh said.
"You have to know the contours of your argument," she said. "A lot of the skills you would use for brief writing are not the skills you use in the court room."
Professor Molly Bishop Shadel and lecturer John Davidson '96 helped prepare the team for the competition. Davidson organized a practice moot.
Students are often tentative when judging moot court practice, Connors said, but, "Mr. Davidson is not like that. He created a really tough scenario where the judges were not giving you a lot of time to speak."
These practice sessions were much like what Connors and Vradenburgh experienced at the competition. "Unlike traditional debates, it's not so much responding to the other side, it's all about the judge's questions," Vradenburgh said.
"All the judges were absolutely determined to test you on every little vagary of your argument," Connors said. "I know that Holly was especially complimented by one of the circuit court judges afterward for her poise under the harsh questioning."
Such grace under pressure was what it took to win, Connors said. "I think we distinguished ourselves by not succumbing to the pressure and by demonstrating an ability to adapt, as best we could, to the various questions and hypotheticals being thrown at us," he said.
Such competitions offer more than trial experience and résumé padding, DeBella said.
"In the past we've had students get job offers from judges or lawyers and people get business cards and make contacts," he said.
Among the panelists and judges for the competition were former South Africa Supreme Court Chief Justice Arthur Chaskalson, and federal circuit court judges Timothy Dyk of the Federal Circuit, Raymond Fisher of the 9th Circuit, Jane Roth of the 3rd Circuit, Reena Raggi of the 2nd Circuit, Reggie Walton of the D.C. Circuit, as well as SCOTUSblog founder Thomas Goldstein.