From Admissions Counselor to Life Advocate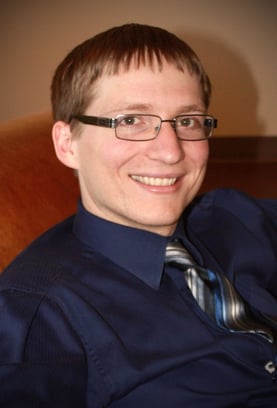 In May of 2012, Ardee Coolidge graduated from Patrick Henry College and moved upstairs to the Admissions Office. He had never totally been sure what he wanted to do after graduation, but he knew he wanted to love and serve people— something he thought he could do as a PHC admissions counselor. During his four years as a counselor, he made countless phone calls and flew all over the country to attend conferences, competitions, and other events to reach high schoolers.
Many current PHC students owe their interest in the school and admission to Coolidge's friendliness and persistent prayers.
One applicant he worked with, Olivia Monroe ('16), remarked, "Ardee is someone who impersonates the Scripture, 'Weep with those who weep, rejoice with those who rejoice.' The first thing I noticed about him was that he asked really good questions; that showed me he was interested in pursuing a connection with me as a person, rather than a high school senior that he needed to convert into a PHC freshman. When I accomplished a specific academic goal, he called me right away and expressed the same excitement that I was experiencing, as if it was his own joy."
Before attending PHC, Coolidge competed in the National Christian Forensics and Communications Association. A judge in his final round at nationals had commented on one of Coolidge's ballots that he should apply to the school. With the encouragement and persuasion of his mother, though, he decided to apply. After receiving his acceptance, Coolidge felt a pull from God to actually attend the school. He joined that fall as an American Politics and Policy major, and he did not regret his decision.
As a Government major, Coolidge took several classes with Dr. Michael Haynes. He says that Ethics and Public Policy with Dr. Haynes was his favorite class because it included "great conversations about ethical dilemmas." Dr. Haynes, Dr. Robert Spinney, and Dr. Frank Guliuzza all immensely impacted Coolidge during his time at PHC, though he notes that nearly all of the professors indelibly impacted his college experience. He notes that before attending PHC, he had always excelled in speaking and verbal communication, but he hated to write. Professors at the college encouraged him to use written words more effectively, which is a skill that has opened up crucial career opportunities for him.
"My professors also taught me how to engage with contrary viewpoints in a compassionate and winsome fashion, skills that are invaluable when dealing with a topic as socially controversial as abortion," Coolidge said.
After working in admissions for four years, Coolidge started on another career path. He was offered a job as the Marketing and Communications Manager at Care Net. This organization has the largest network of affiliated pregnancy centers in the country. It also created the first curriculum to address abortion in the church—an important goal, considering the fact that 40 percent of women who have received an abortion were attending a church at least once a month. Through communications, Coolidge has gained the opportunity to advance the "pro-abundant life" movement.
Coolidge encourages current students to invest in the uniquely beautiful community at Patrick Henry college. He believes it is very easy to get lost in the mundane nature of college life and to stop valuing every person and class as a gift from God. Although Coolidge is blessed to work in a Christian environment, he still misses late night conversations with brothers and sisters in Christ.
"There are more varied backgrounds and experiences at PHC than it may seem," he said. "Take the time to truly know your classmates. Your time at PHC will end before you know it."
-------------------------------