Alumni Profile: Angelise Anderson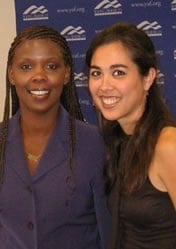 Angelise Anderson, a 2008 Journalism major, cultivated a desire to influence the culture for Christ long before she set foot on the campus of Patrick Henry College. Growing up in Hawaii, the land of sun, fun, and surf, Angelise wrote a newsletter for the girls in her neighborhood. She called it the "West Loch Fairways Girls," and the newsletter addressed the culture, music, movies, and celebrity lifestyles from a Biblical worldview. This publication built relationships and opened up doors for evangelism.
"It was then that I realized that media is an excellent tool for addressing culturally relevant issues and influencing those around us for the glory of God," Angelise said.
Angelise took that knowledge with her to PHC, where she majored in journalism and filled her schedule, serving as an RA and as the assistant manager in the PHC bookstore. In her "spare" time, she enjoyed cheering on the school soccer team, participating in Eden Troupe every semester, and building close friendships.
Now, Angelise works in Washington D.C. as an Executive Administrator for author and conservative advocate, Star Parker.
Specifically, Angelise manages Parker's speaking and traveling schedule, serves as a secretary for the Coalition on Urban Renewal and Education (CURE), and works with fundraising for CURE. CURE's mission focuses upon issues of race and poverty, challenging "the ideas of liberalism" to promote concepts of freedom and personal responsibility.

Angelise credits her job with Star Parker to her time at PHC, and her former jobs and internships, specifically with a crisis pregnancy center and with Chuck Colson's Prison Fellowship Ministries and worldview magazine, BreakPoint. "Every single one of those experiences has lent to what I'm doing now," Angelise said. "It's amazing to see how God builds on every experience in your life."
When Parker visited PHC in March of 2008 and spoke about urban communities dealing with high abortion rates, imprisonment, and recidivism rates, "my heart was already there," Angelise said. At that time, Parker was looking for an Executive Administrator, and her high opinion of PHC was influential when Angelise applied for the position.
"The timing was God's, the job is a perfect fit, and PHC was a part of making that happen," Angelise said.
For now, Angelise is still settling into life in D.C. post-graduation and waiting for God to surprise her. "I've learned that you really can't plan for life," she said. Instead, life comes along and smacks you in the face. As it says in Proverbs 19:21, "Many are the plans in a man's heart, but the Lord directs his steps."
Life is an adventure, and Angelise can't wait for what will come next. In typical PHC fashion, however, Angelise is aiming high. "I'd say First Lady of Hawaii is looking pretty good!"