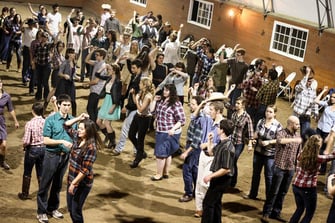 PHC's Shall We Dance Society seeks to promote and cultivate a love of dance through weekly lessons which help prepare students for the many student-organized dances that take place during the academic year. The Society pursues dance as a creative expression, tradition, and social activity. Through teaching basic dance proficiency and working with students to host semesterly dances, the Society helps students grow as leaders while giving them tools to enjoy dance recreationally after college.
The Society offers lessons for a variety of dance styles including East Coast and West Coast Swing, English Country Dancing, waltz, polka, jigs and square dancing.
For more information or to join, contact the Shall We Dance Society through the form below.