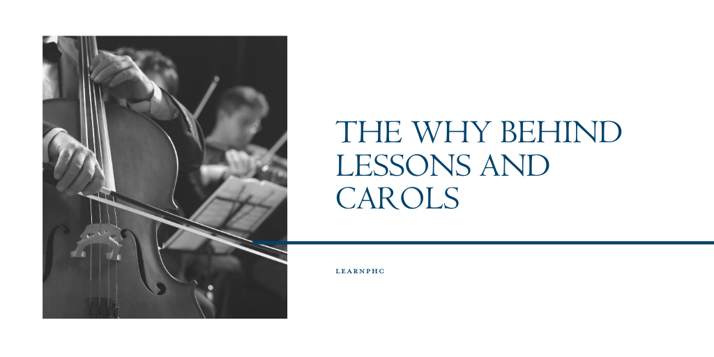 Set a reminder for Friday, December 6 at 7pm!
Lessons and Carols is a worship service commemorating the Christmas season by recounting the miracle of Christ. Chronologically traveling through the Scriptures, the service recounts the steps of our redemption through Christ's incarnation. It begins with the fall of Adam and Eve in the garden, then describes God's promise to Abraham, recounts the prophecies about Christ as told in Isaiah, details the story of Christ's birth as recalled in the Book of Luke, and, finally, ends with the mystery of the "word made flesh" as explained in John chapter one.
It serves of beautiful reminder to our community of the meaning of Christmas, which can often be overlooked or forgotten during the busyness of work and school.
The service also integrates carols sung by the congregation and candle lighting, allowing all to share "the true light, which enlightens every man…"
Many residents of Loudoun county have come to regard it as an indispensable holiday tradition and it is a pinnacle event for Chorale members. This service is webcast live each year so be sure to watch for more information as the time approaches.
There are three Christmas traditions PHC's Music Department participates in to celebrate the Christmas season: Advent Chapels, our campus Christmas Tree Lighting, and Lessons and Carols.
Join the us on Friday, December 6 at 7 p.m. as the PHC Chorale presents this traditional service of carols and readings, telling the story of the coming of the Savior.
Click here to watch a short clip of last year's event.
----
Patrick Henry College challenges the unacceptable status quo in higher education by combining the academic strength and commitment to biblical principles that elite institutions have lost; a commitment to high academic rigor, fidelity to the spirit of the American founding, and an unwavering biblical worldview.