Adjunct Professor of Strategic Intelligence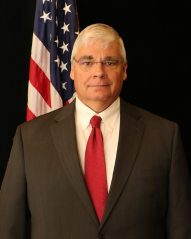 Email: whosborne@phc.edu
Educational Background:
B.S. in Applied Physics, Georgia Institute of Technology
M.S. in Cybersecurity, University of Delaware
Time at PHC: 2022 to present
Mr. William Osborne teaches classes on data science tools, big data analytics, and the application of Artificial Intelligence and Machine Learning to data science. Before joining Patrick Henry, Mr. Osborne taught cybersecurity, network protection, and penetration testing techniques at Mercer University in Macon, GA.
Mr. Osborne currently serves as a Director of Health Information Technology for FEDITC, LLC, a government contractor providing information technology and cybersecurity services. He provides oversight for software development programs, manages a program testing software applications for the Defense Health Agency, and works extensively in business development. Before joining FEDITC in 2019, Mr. Osborne worked for Mercer Engineering Research Center, an educational non-profit government contractor, for 24 years. During that time, he served as a Scientist, a Senior Division Manager, and a Principal Cybersecurity Engineer. He developed real-time operational software for the radar warning receiver on the F-15 fighter aircraft, served on several electronic warfare programs, led and managed numerous enterprise software development programs for the US Air Force and other customers, and performed cybersecurity analyses and system hardening. Before that, Mr. Osborne spent almost eight years on active duty with the US Marine Corps as an F/A-18 pilot, including service in Japan, Korea, and Bosnia and Herzegovina. He holds a Bachelor of Science in Applied Physics, Georgia Institute of Technology, 1988 and a Master of Science in Cybersecurity, University of Delaware, 2018
Mr. Osborne is a homeschooling father of six, including two Patrick Henry alumni.