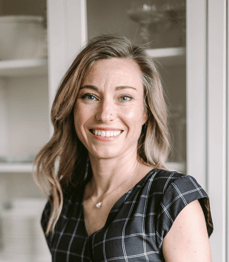 Susan Den Herder, Adjunct Professor of Design
Email: sldenherder@phc.edu
Educational Background:
B.A. in Spanish and minor in Psychology, Wake Forest University (magna cum laude)
Certificate in Graphic and Digital Design, Parsons School of Design
Time at PHC: 2022 to present
Susan Den Herder began teaching Digital Design at PHC in 2022. She studied Spanish and Psychology as an undergraduate at Wake Forest University and then worked in full-time youth ministry at The Falls Church Anglican after completing The Fellows Program (2003). She went on to teach Apologetics at Trinity Christian School (Fairfax, VA) while also beginning to explore her artistic and creative interests. During her years at home raising four young children, Susan pursued creative work as a letterpress printer and freelance graphic designer. Seeking a formal design education, she attended Parsons School of Design and earned a Certificate in Graphic and Digital Design in 2021. She has been a member of the American Printing History Association, designed and co-founded a product collection for the non-profit ministry Coracle, and remains engaged in learning through the Type Design program at The Cooper Union. Susan is passionate about excellent design, well-crafted products, and the beauty of the everyday.