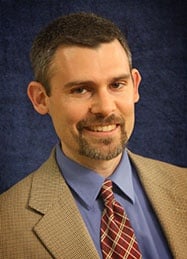 Professor of Philosophy
Email: meroberts@phc.edu
Phone: 540-441-8170
Educational Background:
Ph.D. in Philosophy, University of Colorado-Boulder
M.A. in Philosophy of Religion/Ethics, Biola University - Talbot School of Theology
B.A. in Religious and Philosophical Studies, Sterling College
Time at PHC: 2008 to present
In addition to teaching PHC's core courses of Logic and Philosophy, Dr. Roberts teaches the upper-level philosophy courses of Metaphysics, Philosophy of Religion, Epistemology, and Ethics. He is also the Program Director for the Classical Liberal Arts Major and the Philosophy Minor, as well as the Director of Distance Learning.
Dr. Roberts exhorts his students to love God with their minds by asking probing questions that aim to help them more fully comprehend the intersection of philosophy with biblical theology and practice.
Dr. Roberts' research interests focus on the intersection of philosophy and spiritual formation and the following areas of philosophy: metaphysics, philosophical anthropology, philosophy of religion, and philosophical theology. He has presented papers at the meetings of the Evangelical Philosophical Society and the American Philosophical Association. He gave the PHC 2020 Fall Faith and Reason Lecture entitled "Faith, Reason, and Imagination: Cultivating the With-God Life in the Fulfillment of Vocation," and published "Willardian Spiritual Formation, Novel Spiritual Disciplines, and Basketball: A Case Study," in the Fall 2020 issue of the Journal of Spiritual Formation and Soul Care.

Dr. Roberts lives in Purcellville with his wife and five children.