Congratulations to the Class of 2019!
We are filled with joy at our students' accomplishments and are excited to see where God will lead them in their next chapter. We hope you can join us for the Baccalaureate and Commencement festivities.
Baccalaureate
Friday evening, May 10, at 7:00 p.m. in the Barbara Hodel Center.
Commencement Ceremony
Saturday, May 11, at 11 a.m. in the Barbara Hodel Center. Doors will open at 10:30 a.m.
You may RSVP to the right. If you have any additional questions, you may contact Mary Haynes at 540-441-8031 or mshaynes@phc.edu.
We look forward to celebrating this joyous occasion with you.
Details
The Baccalaureate ceremony, for graduates and their families, will include an exhortation from the PHC leadership as well as a time of prayer, dedicating each graduate for service to Christ and his Kingdom. An appetizer reception will follow.
Dr. Robert P. George will deliver the Commencement address the following day.
Patrick Henry College is excited to announce the class of 2019 commencement speaker is Robert P. George, Professor of Jurisprudence and Director of the James Madison Program in American Ideals and Institutions at Princeton University. George specializes in moral and political philosophy, constitutional law, bioethics, and the theory of conscience.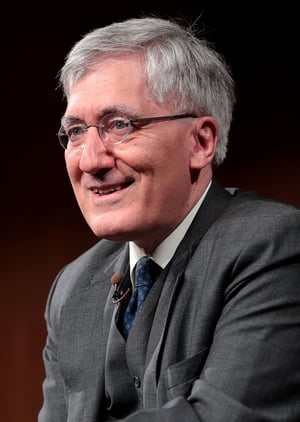 George's exposition in contemporary natural-law ethic based in Aristotelian and Aquinian philosophies is the leading in the country. He has helped to develop a moral theory called "New Natural Law Theory," conceived by Germain Grisez. In the realm of legal theory, George has expanded criticism of legal positivism and anti-perfectionism. He has also applied New Natural Law to embryo-destructive research, abortion, euthanasia, capital punishment, sexuality, rights of conscience, and religious liberty.
George is a graduate of Swarthmore College and Harvard Law School, and also earned a master's degree in theology from Harvard and a doctorate in philosophy of law from Oxford. Along with these, he holds sixteen honorary degrees.
George has authored over seventeen books including Making Men Moral: Civil Liberties and Public Morality, In Defense of Natural Law, The Clash of Orthodoxies and Conscience and Its Enemies. He is co-author of Conjugal Union: What Marriage Is, Embryo: A Defense of Human Life, Body-Self Dualism in Contemporary Ethics and Politics, and What is Marriage?. He is editor of several volumes, including Natural Law Theory: Contemporary Essays, The Autonomy of Law: Essays on Legal Positivism, Natural Law, Liberalism, and Morality, andGreat Cases in Constitutional Law, and co-editor of the Cambridge Companion to Natural Law.
Along with teaching at Princeton University, George also frequently serves as a Visiting Professor at Harvard Law School. He has also worked as the Chairman of the U.S. Commission on International Religious Freedom, and on the President's Council on Bioethics, and as the U.S. member of UNESCO's World Commission on the Ethics of Science and Technology. He was also a former Judicial Fellow at the Supreme Court.
He serves on the boards of the John M. Templeton Foundation Religion Trust, the Lynde and Harry Bradley Foundation, the Ethics and Public Policy Center, the Becket Fund for Religious Liberty, the National Center on Sexual Exploitation, and the Center for Individual Rights, among others.
George has received the United States Presidential Citizens Medal, the Honorific Medal for the Defense of Human Rights of the Republic of Poland, the Bradley Prize for Intellectual and Civic Achievement, the Philip Merrill Award of the American Council of Trustees and Alumni, the Paul Bator Award of the Federalist Society for Law and Public Policy, the Sidney Hook Award of the National Association of Scholars, a Silver Gavel Award of the American Bar Association, the Charles Fried Award of the Harvard Law School Federalist Society, the Irving Kristol Award of the American Enterprise Institute, and Princeton University's President's Award for Distinguished Teaching.