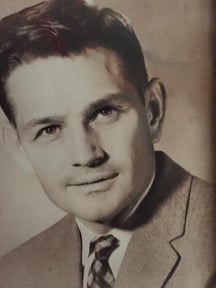 My father was named Conward Farris. My grandmother wanted to name him Conrad but didn't know how to spell it. All of us preferred the way it ended up.
Neither of my dad's parents finished elementary school in their home in Stone County, Arkansas.
My dad grew up without running water. My grandparents never owned a car or truck ever.It was my father's Army service in WWII that gave him the opportunity to get an education and a career.
He became an elementary school teacher and then a principal.
When he died in November of 2014, many of his former students and teachers came to his service--a remarkable tribute for someone who had been retired for over 30 years.
The most touching thing at his service were the former students who told how my dad prayed with them in school. Some said he led them to Christ. Others said he was the only stable man in their early years of life.
In many ways my dad's story was the story of the American Dream. He rose from true poverty not to riches but to the middle class where he invested in his community and raised a family with dignity and honor.
But more important than any of that is that my dad met Jesus in 1954 and was changed forever. And the dividends from his spiritual investments are simply incalculable. He led me and all of my siblings to Christ--just for starters.
The American Dream is fading in some circles. But the true dream of eternal riches is as vibrant as ever.
My dad walks the streets of gold.
Happy Father's Day, Dad.